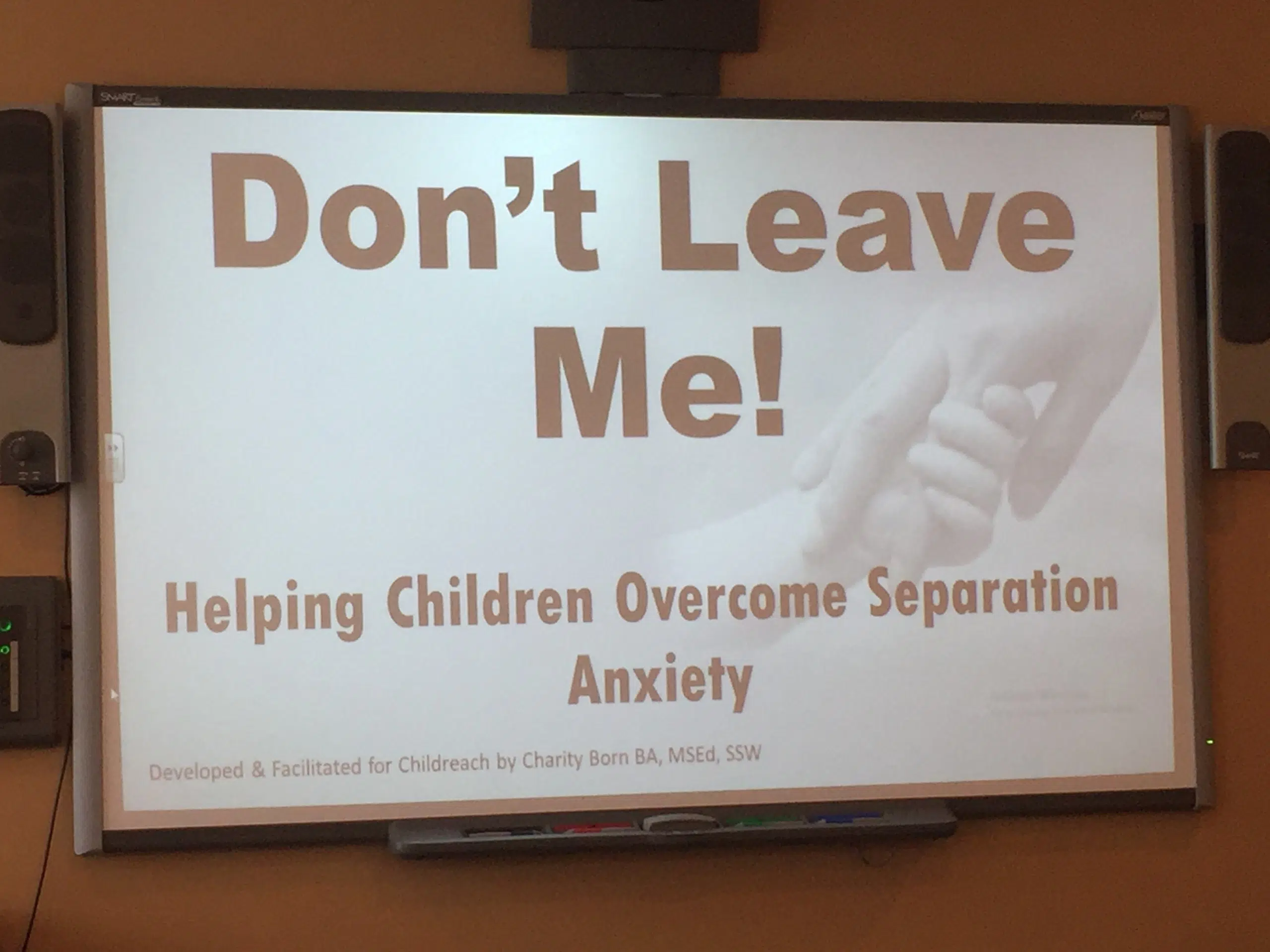 Separation anxiety, is something most have experienced; however with school starting up in September, some parents may be looking at ways to ease this emotion in both themselves, and their child.
Child Reach, offers free seminars to parents of children aged 0-6, that provide them with strategies for when they have to inevitably, separate from their child.
The sessions are called "Don't Leave Me", and are led by Parent Support Educator, Charity Born, who also happens to be a mother, and former elementary school teacher.
During the two hours, Born, presents parents with a power point, highlighting various resources pertaining to the difficulties of separation.
As the presentation unfolds, parents are encouraged to share information and strategies with one another, while also asking questions that benefit not only their situation, but others as well.
This engages the audience, while creating a safe and comfortable environment, which allows parents to open up about their separation difficulties.
As a result, parents can identify shared experiences, and receive some validation in the process, allowing them to feel at ease about their parenting practices or child's behavior.
Many community members are unaware that services like these are even available, let alone free, and Born says having resources like this in the community is paramount.
"We work at a prevention level rather than an intervention, so if you can come to us when your kids are young, and get skills, and strategies like these, you can avoid some of those negative separation effects that you see down the road."
Although it is not always the child that needs strategies tailored to their behavior that stems from separation, according to Born, when a child first starts their schooling, it is often the parents who have the hardest time letting go.
"They're not ready, they thought they would be, they had five years at home, but they're not ready for it, so it's giving them strategies to cope, so they don't pass on that anxiety to their children." she said.
On top of their own stress, parents may also stress about their child's readiness, as far as, things like potty training, opening their lunch box, riding the bus, and so on.
Whatever it may be, Born says she can work with the parents, to create strategies to provide them with practical strategies, and ease their "fears".
"Prepare in advance, lunches, clothes, backpacks, everything the night before, to take away the pressure of getting everyone out the door in the morning. Prepare your child for what school will look like, take advantage of the programs that London offers in the schools. Get you child involved, let them pick out their school supplies, and start practicing with their lunch containers." she said.
Throughout her experience as both a mom and an educator, Bond says "consistency and routine, no matter the age of your child, is something you never need, to stop practicing."
Child Reach, also offers child minding for all of their workshops, so if you are interested in coming, if nothing else, you will get two hours to yourself, and some coffee.