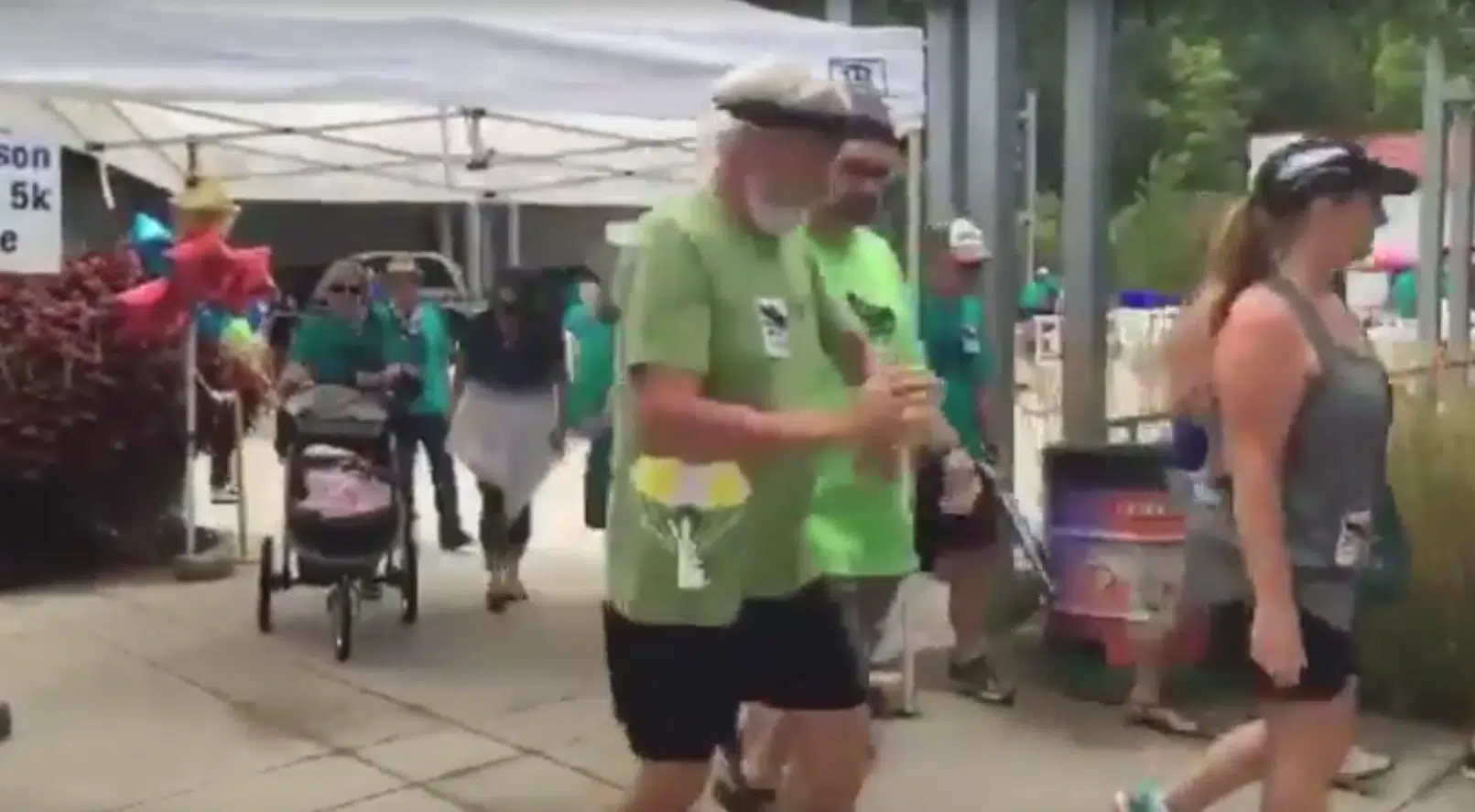 As of March 2012, over 10 million people globally and 100,000 Canadians were diagnosed with Parkinson disease.
Though it was first discovered in 1817, a single cause for Parkinson's has not been identified. Researchers are studying many theories such as the role of genetics and environmental exposure.
Since 1965, Parkinson Society Canada and its provincial accomplices have been focused on giving support to Canadians living with Parkinson's each and every day. The Parkinson's society makes sure that there is someone backing endeavors and offering a voice to their worries and needs.
The incurable disease, was challenged by the WALK-IT for Parkinson's group on Saturday, where hundreds of Londoners came out to spring bank Park and completed the million step challenge.
Brad Richards, and Kelly Brown, chairs of the board and the WALK-IT in London, both gave XFM studios an update on the disease today.
According to Brad, brain stimulation research is on the rise, as doctors still ponder what could they do about Parkinson's.
"They're doing more brain stimulation research. I think that's the biggest thing on the horizon today. Stem cell research has been done more in recent years as well. "
The disease hasn't shown any signs of slowing down, as Brad and Kelly continue to add that it has grown significantly in the last 10 years.
"It certainly grown in the last decade, around 10 Canadians are diagnosed with Parkinson's every day. I believe there's 100,000 that already have Parkinson's and by 2030 that number is expected to rise to 300,000."
Kelly adds that Canadians shouldn't feel safe just because they haven't hit their sixties yet, people as young as 40 can start to develop Parkinson's.
"Not everybody who has Parkinson's are over the age of 65. People like my husband who's 48, has had Parkinson's now for 5 years. Around 10% of everyone diagnosed gets diagnosed way before the realm we'd expect them to."
A healthy diet, good exercise, and balanced lifestyle are the only known key components to avoiding Parkinson's.
"The quality of life that you can have through exercise and things that are not necessarily medicine have improved" says Kelly.
"When I got diagnosed, I read on it as much as I could. One thing I found is that exercise and diet is really important for keeping it off of you for as long as you can." Added Brad.
Kelly ends off by saying that people just need to learn how to "deal with it".
"I think the thing people need to understand is you get what you get sometimes, and you just have to deal with it. It's not going to be great but it doesn't prevent you from having a good quality of life. You can see that today with people smiling, laughing and walking here. It's something that people need to learn how to deal with, but it certainly needs funding and attention because the population of people with Parkinson's is only going to dramatically increase."
The event also held an auction table, where volunteers placed their bids on items, having all the money go towards research. Those who were walking had the choice of completing 2.5 kilometers, or doubling that to 5 kilometers. Once the volunteers crossed the finish line, they were greeted with refreshments, a loud round of applause, and the smell of fresh pizza.
Canadians surely can't prevent anything, but both chairmen believe that it is still possible to turn the tables and kill the disease off in the future. Though the odds are against them, it's not going to stop Parkinson's society Canada from doing everything they can.