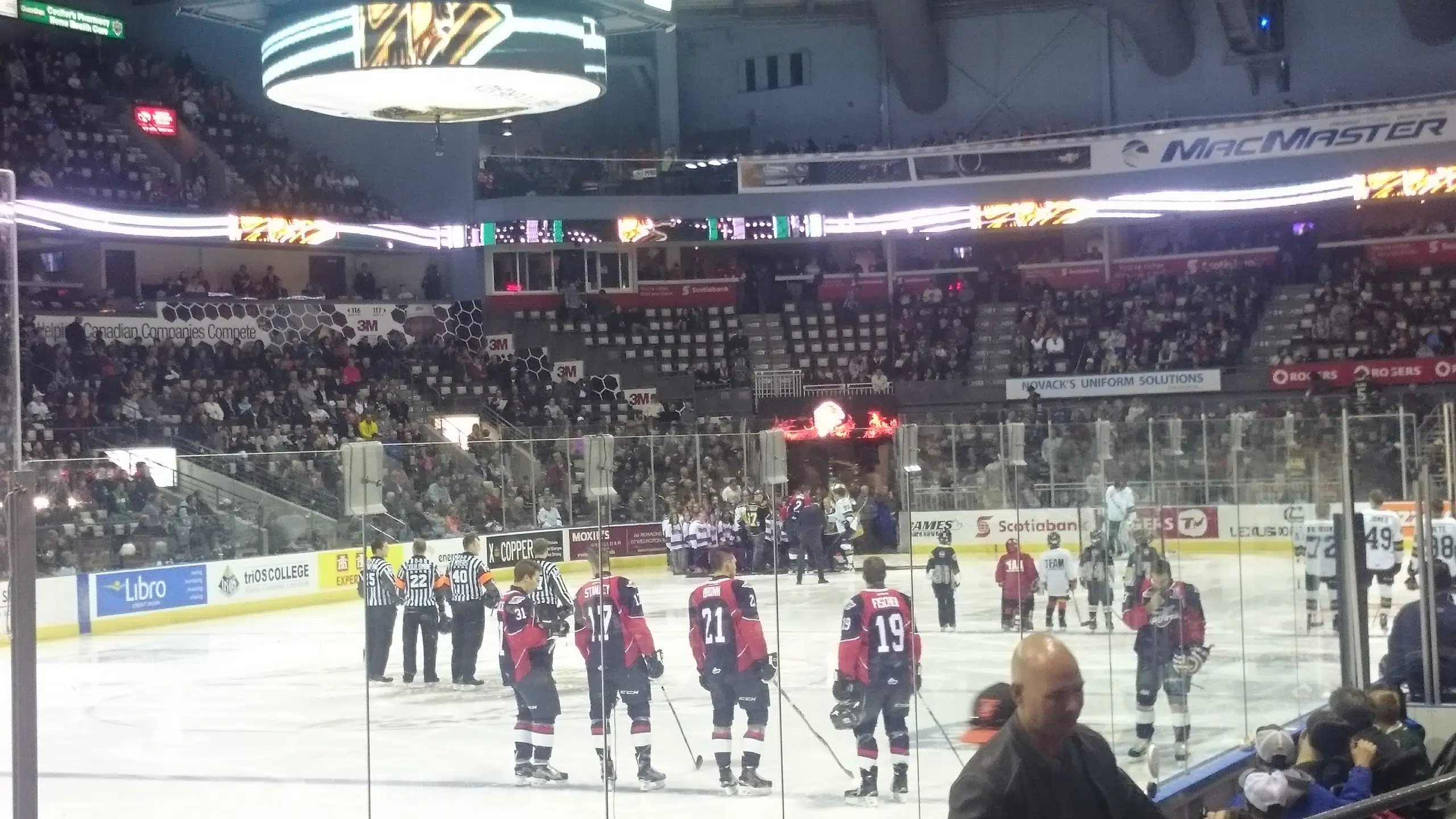 The 2016-2017 Ontario Hockey League season is underway tonight.  Last year's final saw the London Knights sweep the 'cinderella' Niagara Ice dogs to claim the O.H.L Championship. The question on everybody's mind this season is; Can London repeat as champions?  This might be tougher for the forest city organisation as several teams in the West and East look built to take it all.
Starting off in the Eastern Conference,  we begin with the Central division which saw the Barrie Colts last year clinch with the best record.
(2015-2016 results: #1 Barrie Colts, #2 North Bay Batallion , #3 Niagara Icedogs, #4 Mississauga Steelheads, #5 Sudbury Wolves)

#1: Mississauga Steelheads
The Mississauga Steelheads lineup includes a ton of speed and grit.  This year's team includes  1st rounder Michael Mcleod leading the way after picking up 21 goals and 61 points last season, along with power forward Nathan Bastian expected to do much of the scoring for the team.  For head coach, James Richmond, this will be his 1st year behind the bench as James Boyd will stick to General Manager duties.  Key additions added to this Mississauga team include goaltender Matt Mancina, Finnish defenceman Vili Saarijarvi and Swedish defenceman Jacob Moverare added. However, the team also lost a good chunk amount of players with last year's OHL Rookie of the Year, Alexander Nylander to the Buffalo Sabres alongside veterans Jack Flinn, Josh Burnside and Mason Marchment to graduation. Another issue may be with what to do with exceptional status player, Sean Day who has not had the major progress to his hockey career as most scouts expected and with numerous team issues last season may worry management about team chemistry. As long as their marquee players are kept, their rookies developed, and other lines contribute, I predict that the Mississauga Steelheads will win the Central Divsion.
#2: North Bay Battalion
The North Bay Battalion may have lost some notable graduates like Mike Amadio, Jake Smith and Kyle wood but the Northern Ontario team is still strong with a amount of players. That includes defenceman Cam Dineen who led the blueline last year with 59 points.  Another player to look out for is off-season goalie addition Brent Moran to replace the recent 3 year starter, Jake Smith.   Moran had his struggles last season after being traded to basement team, Flint where his numbers were affected but is hoping to bounce back on a good team.  For the offence, look to Brett Mckenzie to replace last year's star  Mike Amadio.  Don't be shocked about North Bay, They are always a threat.
#3: Niagara Icedogs
The cinderella Icedogs surprised every hockey fan after eliminating both Kingston and Barrie in the playoffs on-route to the finals.  However, don't expect the same results after loosing a majority of their talent to graduation. Notable star players included Alex Nedeljkovic, Brendan Perlini, Josh  Ho- Sang, Vince Dunn, Jordan Maletta, Pavel Jenys, and Stephen Harper.  Also, this will be the 1st season with Dave Bell as coach  so expect a new system of Icedog hockey. Even with a huge loss, don't look down at the team as there is still players hungry from last year's run.  Watch for Graham Knott, Chris Paquette and 2nd year duo of Hayden Davis and Ben Jones to lead the team.
#4: Sudbury Wolves
For Wolves fans, it has been painful for almost a decade. After the finals run of 2007, the wolves have not seen major success since.  However expect a big surge from young wolfpack as the team is filled with talent. Last year's #1 OHL pick David Levin is healthy and looking for a bounce back season after being injured for a majority of games last year. A huge addition to the team is #2 overall draft pick Owen Lalonde who will improve that weak backline. Also look to Russian forward, Dimiti Sokolov to improve after beginning last year's season as a 1st round expected pick to dropping in the 7th and being selecting by the Minnesota Wild.  While the team may have lost a few key players to graduation, the trade for Aiden Jaimeson will surely help the lockeroom as the defenceman played a big role in London's championship season. Will Sudbury make the playoffs? I guarrante it but in two years is when I see the Wolves becoming a title contender.
#5: Barrie Colts
For a franchise that has only missed the playoffs once in its 20+ year franchise history, this could be number 2 for the Colts. Barrie's impressive 2015-2016 season gave hope that the team could win it all but a disappointing playoff series with the Icedogs saw them eliminated in the eastern conference finals.  However like the rebuilding year of 2010-2011, expect another quick rebuild as the team is loaded with youth.  Adding players like Tom Hedberg, Kirill Nizhnikov, Tyler Tucker, Curtis Douglas, and others will see hope for Colts fans. Meanwhile, the team lost its core majority as Mackenzie Blackwood, Kevin Labanc, Andrew Mangiapane, Rasmus Andersson, Justin Scott, Dylan Sadowy, Michael Webster, Greg DiTomaso, Josh Carrick have all graduated.  The players to lead this young lineup will be Anthony Stefano, Cordell James, and Justin Murray.
Now we move over to the East Division.
(2015-2016 season results: #1 Kingston Frontenacs, #2 Ottawa 67'S, #3 Peterborough Petes, #4 Oshawa Generals, #5 Hamilton Bulldogs)
#1:  Kingston Frontenacs
Like Barrie, Kingston also had an impressive 2015-2016 but playoff struggles to Niagara saw them eliminated earlier than expected.  Even with key losses such as Captain Roland McKeowan, Star forward Michael Dal Colle , and agitator Juho Lammikko graduated, the Frontenacs still have a strong lineup in a weak East division. They are still led possible returnees Spencer Watson, and Lawson Crouse with Stephen Desrocher in the backend.  Also Kingston still has Jermey Helvig in the pipes as the goalie had an impressive 19-3 record with a 2.13 goals against average as the backup last year.  Let's not also forget who else they have that include Liam Murrary, Sergey Popov, and Eameli Rasanen also leading the way for Kingston. Expect another title contender from the Frontenacs this season.
#2: Ottawa 67'S
After the trade of Travis Konecny to Sarnia last season, everybody expected the 67's to rebuild the team went on to have a strong record in the season. Expect the same similar results for Ottawa this season. Even with the loss of a few key members of the lineup to graduation and trades, the 67's still have a lineup that can compete in the division. This will also be Jeff Brown's 3rd season behind the bench as the famous junior hockey franchise still continues to produce results for the local fans.  The players I would watch for this season would be    
#3: Hamilton Bulldogs
The rebuilding Bulldogs are on its way as a rising team to look for in the East.  This will be the 2nd year in Hamilton as the team looks to produce results to attract fans to the building.  With not really losing any key players on the roster, the lineup has the same core of players with the addition of more talented rookies.  The players I would watch on Hamilton would be Matthew Strome also known the youngest brother in the talented Strome family to lead the team in offence and show scouts the talent he has to be a 1st round projected draftee for this year.  Other players to watch are Trent Fox, Matt Luff, and Cole Candella. Just like Sudbury, I think this is a team that can compete for a title in 2 years.
#4: Oshawa Generals
There was a debate in my head this year trying to pick between Hamilton or Oshawa but I am choosing the Generals lower as I expect another major overhaul to the roster this year as the team continues to rebuild after its 2015 Memorial Cup win.  This is Bob Jones's 2nd year behind the bench for the Generals as he looks to build a future for this team. Even with a roster led by Mitchell Vande Sompel and Anthony Cirelli, this team has the talent to make the playoffs but not enough to go far as why I continue seeing the franchise dealing its star players for picks.
#5: Peterborough Petes
Even with a nice lineup that includes a lot of size, I believe that the Petes will struggle after losing its top 3 players from last year to graduation.  With a few players that can produce major offence, I think this team will struggle and collapse mid-way through the season. It's also tough to predict what the plans will be for the Petes. Should they trade for help or should they rebuild? They still have a very good goalie in Dylan Wells in the pipes but can that blueline support him is the true question.  For Petes fans, expect a really tough year to watch.
Projected Eastern Conference Standings
1) Mississauga Steelheads
2) Kingston Frontenacs
3)North Bay Battalion
4)Ottawa 67's
5)Niagara Icedogs
6) Sudbury Wolves
7)Hamilton Bulldogs
8) Oshawa Generals
-Playoff line-
9)Peterborough Petes
10) Barrie Colts
Now moving over to the much tougher and harder predicted Western Conference, we start off with  the Midwest Division.
(2015- 2016 season results: #1 Erie Otters, #2 London Knights, #3 Kitchener Rangers, #4 Owen Sound Attack, #5 Guelph Storm)
#1: London Knights
Now talking about the defending memorial cup champions, let's just say that for this prediction that Mitch Marner has made the Toronto team but Matthew Tkachuk and Olli Juolevi were returned to juniors. This would still be a very strong team built off fantastic offence but can the Knights defend their title? A feat that has not been done since the 2009-2010 Windsor Spitfires.  They still would also have a good backend with the Finnish defenceman, Brandon Crawley and others. Also Tyler Parsons in net still brings stability to the pipes. However my concern for London would be that losing Dvorak and Marner will really hurt as the team is lacking a #1 centreman. My other concern is can Cliff Pu and JJ Piccinich grab the goals like Marner and company did last year?. My prediction for London is that I think they are still a really good team but I also believe they won't add any key additions this year at the trade deadline  so this maybe an early bounce in the playoffs for London.
#2: Kitchener Rangers
Now despite losing a good group of players to graduation that include Ryan MacInnis, Gustaf Franzen and Dimitrii Sergeev, they still have a very strong core that includes Adam Mascherin, Jermey Bracco, Dylan Di Perna, and others to go with that balanced lineup.   However, Luke Opilka will be out for most of the beginning of the season so look to over-aged Dawson Carty to handle the pipes. Even though last year, I predicted Kitchener to win the O.H.L title, I still expect them to be a big title contender and look to challenge London all season for the division.
#3: Owen Sound Attack
Out of all the teams in the playoffs that London faced, no team was much of a challenge like Owen Sound provided.  London's 2 losses in the playoffs came to the Attack. Now if we look at this lineup, you will see that it has goaltending, size and speed built all over but can there players provide more than Kitchener and London? Most likely not, but I still see them as challenging like the two teams above.  Watch for   
#4: Erie Otters

For Erie, I am predicting that the team will start off a rebuild this season and lose key players at the trade deadline.  After a nice few years which saw Otters fans see talented players produce like Connor Brown, Connor McDavid, and Dylan Strome, this will be a tough year in Erie.  I see Dylan Strome cracking the Arizona lineup which leaves   
#5: Guelph Storm
Guelph fans, expect another year of misery as Guelph continues their rebuild. However, also expect promise after drafting talented defenceman Ryan Merkley #1 overall in the draft this year. The storm still have a few players that will produce points which include James McEwan, and Garrett McFadden but this will be another last place finish for the Guelph Storm.
Now comes the hardest to predict and that is the  West Division.
(2015- 2016 season results: #1 Sarnia Sting, #2 Windsor Spitfires, #3 Sault Ste Marie Greyhounds, #4 Saginaw Spirit, #5 Flint Firebirds)
#1: Windsor Spitfires
This will be the 1st time since 1981 that the city of Windsor will be hosting the Memorial Cup. For the Spitfires, they are hoping to capture the same magic they had in 2009 and 2010 in the quest to capture their 3rd Memorial Cup.  Just like those magic years, the Spitfires lineup is deep! When you are led by three first rounders which include Logan Brown, Logan Stanley, and reigning O.H.L defenceman of the year, Mikhail Sergachev. You are expected to win the title. However, the question for the Spitfires is who can replace the offence that Branden Lemieux brought last season on the left wing? Even with the additions of Jeremiah Addison and Mike Baird on the left side, the duo don't have the talent like Lemieux has but expect Addison to replace the 2nd line wing spot that recent graduate Bradley Latour covered last season.  Lets look at what else Windsor has in their lineup which also includes the acquisition of talented 2 way centre Julius Nattinen in the offseason from Barrie. Let's not also forget that if last year's team leading scorer Christian Fischer returns, this would be a truly talented tough playing lineup. Also look out for goaltender Michael DiPietro to put up excellent numbers in the pipe are the sophomore looks to be a 1st round pick.
#2:  Saginaw Spirit
Call me crazy but I see a lot of talent in this Saginaw Spirit team. I think that with their offseason acquisitions and a majority returning core, Saginaw is another team you should add to your contender's list. Now the loss of Connor Brown and Artem Artemov will sting a bit but players like Mitchell Stephens and Filip Hronek will step up and lead this team. Also this will be the 1st year with Spencer Carbery behind the bench, and questions will be can he replicate the 1st year success like Rocky Thompson had with the Spitfires last season. Watch out for Evan Cormier to put up better numbers behind the net to help the rise of the Spirit.
#3: Sarnia Sting
While most would predict Sarnia over Saginaw, I believe that with last year's playoffs, we saw the weaknesses this team has. This team is still very strong though which includes a star studded lineup of Travis Konecny, Pavel Zacha, Jakob Chychrun and Jordan Kyrou. Sarnia just like last year is still a title contender however the team is cursed when it comes to the playoffs with a history of quarterfinal bounces. Other players to look forward to on the Sting include Nikita Korostelev and goaltender Just Fazio to see if the Sting can finally overcome that curse.
#4: Sault Ste Marie Greyhounds
The Soo Greyhounds like the other teams in the division can also be called a contender however for the greyhounds, the loss of Brandon Halverson in net to graduation will hurt the team. Let's not forget that if Sault Ste Marie was a team in the Eastern conference,  they would win one of their divisions but sadly the talented team plays in the tough west.  The players for this team to watch for would be the talented Blake Speers and the 2 way force of Zachary Senyshyn to lead the hounds on offence. Also watch out for left winger Boris Katchouk and defenceman Gustav Bouramman to bring some spark on the ice.  The Sault Ste Marie Greyhounds are a good team but with no key additions to the lineup will put Soo in the middle of the pack.
#5: Flint Firebirds
The 2015- 2016 Flint Firebirds were a complete mess. The ownership had issues, management had issues, the players had issues.  The Firebirds have been a scare to parents seeing their kids getting drafted or traded to but this year with new management aboard and a new coach, Flint looks to build hope for the struggling franchise.  With a few notable graduates  lost and a lot of youth added, The Flint Firebirds will still be a team in the basement for this season. Also watch out to see what Flint does with talented centre Will Bitten who in the offseason has asked for a trade. A valuable player like him can pick up high picks to speed up the rebuild that Flint is looking for.
Projected Western Conference standings
1) Windsor Spitfires
2) London Knights
3) Kitchener Rangers
4) Saginaw Spirit
5) Sarnia Sting
6) Sault Ste Marie Greyhounds
7) Owen Sound Attack
8) Erie Otters
-Playoff line-
9) Guelph Storm
10) Flint Firebirds
Finals projection: Windsor Spitfires capture the O.H.L championship over Mississauga