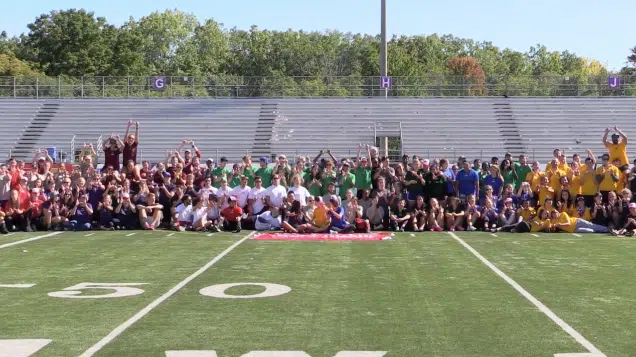 Western Students were given the opportunity to compete in a number of different sports alongside local Special Olympics athletes during motionball's Marathon of Sport to help raise money for Special Olympics Canada.
Mostafa Al-Mashita is the Event Director for motionball at Western and he says this type of event is "unique as a charity because it gives you an opportunity to see directly who you're benefiting when you're fundraising."
Participants got to see first hand and compete with the people they were directly benefitting with the money raised, and saw just how appreciative they were to compete.
With the money raised from Marathon of Sport they help pay for: 
Team uniforms
Travel costs
Equipment
Tournament expenses
"Healthy Athlete" programs
Parents of the Special Olympics athletes see just how meaningful an even like this can be for their child saying, "the impact is definitely in terms of fitness but also in terms of sociability and goals, and a more diverse schedule and a fuller life."
At motionball they strive to achieve and inclusive environment for everyone participating by educating people on the impact of what we say through the #NOGOODWAY yellowcard campaign.
"It's about educating people not use the R-word which is directly linked to bullying," Al-Mashita says.
Cassie Chambers is the National Events and Communications Coordinator at motionball and she says she can see how just one day can make a difference.
"This morning I'm sure you would have seen some of the athletes not all that confident, a little bit nervous going out and meeting new people but by the end of the day everyone will be hugging, high-fiving, exchanging emails, they'll be best friends."
The Marathon of Sport provides an opportunity for people to get together and play sports in a way that they might not have had otherwise.
To date, motionball has donated over $6 million to Special Olympics Canada.