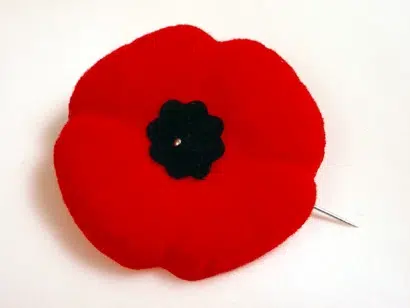 Remembrance Day or sometimes known as poppy day is just around the corner, Remembrance Day is a Memorial Day set aside in commonwealth of nations member states since the end of the first world war to remember members of their armed forces who have died in the line of duty.
And where there is Remembrance Day there is the poppy. The poppy or what we see commonly around Remembrance Day is known as a remembrance poppy.
The remembrance poppy is an artificial flower that has been used since 1921 to commemorate military personnel who have died in war, and represents a common or field poppy, the use of the poppy was inspired by the world war one poem "In Flanders Field" written by Canadian physician, Lieutenant Colonel John McCrae, on 3 May 1915.
Poppies are an important part our honoring those who fought for our freedom, that's why it is important to be aware of some of the etiquette surrounding these beautiful red flowers.
To start off it's important to note the proper way these poppies should be worn. Casper Koevoets the public relations officer for the Royal Canadian Victory Legion for the London area noted that you should try to wear the poppy closest to the heart as possible. He added that even though the legion wants all Canadians to wear a poppy to honor those who fought for our freedom, it's the same freedom that our solider fought for that gives people the choice weather they want to wear a poppy.
Poppies are distributed across Canada by the Royal Canadian Legion each year to many different places like stores, schools and restaurants. When they get to these places they are able to be taken by the people and it gives people the chance to give a donation to the poppy fund. This poppy fund which is run by the legion is used to help take care of our vets to who need any sort of financial support, but this support is limited to one use per veteran.
The poppy is hoped to be worn by all Canadians today to honor those who fought for us to have the freedom we live in today.