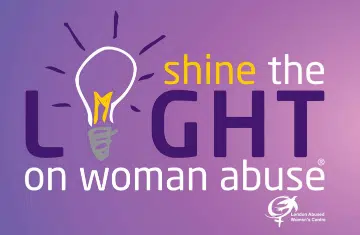 The London Abused Women's Centre's parade of purple to put an end women abuse has been promoted all over Canada for the first year ever on "Wear Purple Day."
The purple celebration is apart of the centre's 7th annual "Shine the Light on Women Abuse" campaign this month. More than two dozen communities and organizations across Canada have shown their support today, including Prime Minister Trudeau himself who filmed a short video about the Shine the Light campaign.
You may have seen university and college campuses and stores lit up in purple today to support the cause, but LAWC heads down to Ottawa to shine the purple spotlight on Ottawa's Peace Tower.Over 200 dignitaries, including Trudeau himself, will attend the ceremony for the lighting of the peace tower at 7 pm tonight. This is the first time in history that the peace tower has been used for a symbol of women empowerment.
LAWC asks people to continue to conversation of violence and abuse against women and how we can help put an end to it. The full list of purple events happening this month can be found at the London Abused Women's Centre's website.
This year's Shine the Light campaign is in honor of Paula Gallant, who was murdered by her husband in 2005, and Mary Meadows, a survivor of abuse from St. Thomas who was brought to safety by the London Abused Women's Centre.
Below is Justin Trudeau's  video in support of the Shine the Light campaign: