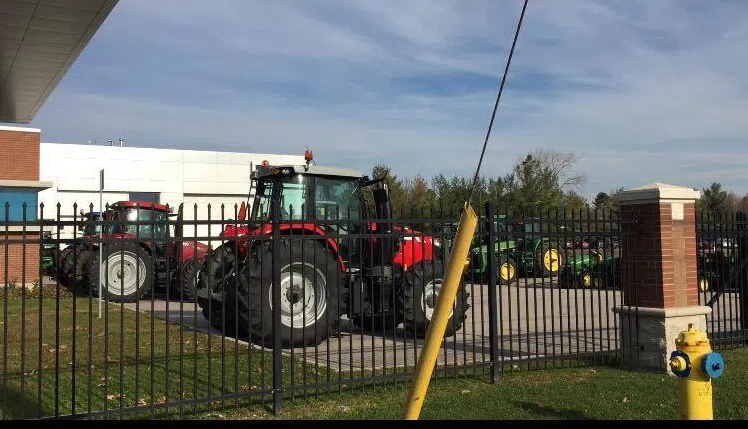 This November weather has been relatively warmer. Many farmers may find the perks to harvesting in the higher temperatures.
Meek Rarock is a farmer who produces corn and soybeans. He adds the weather has been good for harvesting this year.  "It really just depends on the weather but sometimes we will just go a whole day, like two to three days a week harvesting."
Geoff Coulson is a Weather Specialist and says the dryer temperatures could be a perk to farming."Well certainly if the farmers were looking for sunny and dry conditions to help with any final harvesting that is going on, the first half of November probably couldn't of been better for them.We had temperatures well above the normal values, precipitation well below normal amounts during the first half of the month and in fact we may be setting a record of the warmest November 18th tomorrow if we reach the forecast high of 18 degrees."
Coulson also shares it is very unusual to see warmer temperatures in November.
Harvesting is the process of gathering a ripe crop from within the fields. It is one of the busiest times of the year for a farmer.
Another big aspect to farming is trucking. Farmers use truckers to bring their product from point A to point B across the world.  Mark Russell is the RSE coordinator at Fanshawe College. He explains how trucking is so important with agriculture, " The truck is taking the grains to the market and then of course once its processed then the trucking industry supports the delivery and takes it to grocery stores and then throughout Ontario or wherever the crops are being harvested off too."
Russell also adds it is time consuming for truckers, as they need to pick up the loads and make sure the loads are safe.  A lot of the time the trucker will be hauling grain but it can vary from farm to farm.
Darren Chapman is an Economic Professor and shares how farming is turning more into a corporation then a family farm. "The businesses are owning the farms rather then family farms. So what ends up happening is that the cost of production are actually reduced because these corporations can purchased the land, have the capital to purchase large equipment to get the crops off. They can actually do more production for less bodies.This can be both a benefit and cost to our society."
Chapman also adds, "as a benefit those of us that buy the goods from the farms, the corn, wheat, soybeans  pork and beef- our cost should generally be lower because their production cost are turning out to be lower. But the opportunity cost to that – the flip side is that their are fewer farmers that are farming. So heres the problem, where did those farmers go? if they don't have a job? Because we are putting individual farmers out of work then that means we are putting some families out of work. Which means they are either being retrained and if they can be retrained, they are back in the economy thats okay but we aren't seeing the same level of return on production that they are doing and also we aren't seeing the same benefit. So what happens is that as those family farms start to deteriorate we don't see as many people in the small towns that are surrounding those farms. Those little shops and those little businesses that rely on the family farm have closed up."