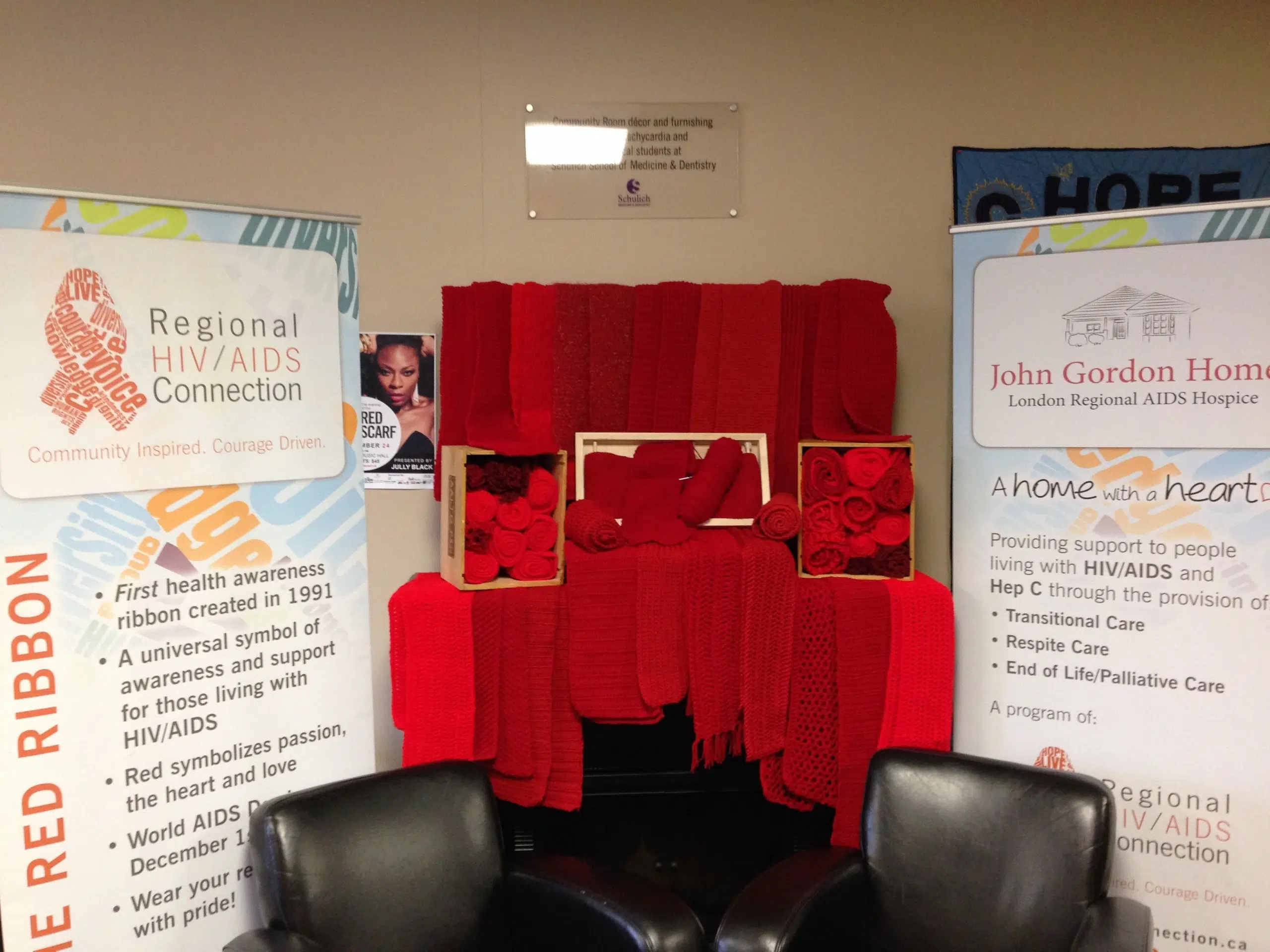 For the fifth year running, the Red Scarf Project will be creating art installations in downtown London as well as regionally, including Stratford, Woodstock and Sarnia using red scarves that, when tied to an object, look like large red ribbons, the ribbon of HIV/AIDS awareness.
In 2012, its first year, the project was a public installation of hundreds of red scarves on the streets of downtown London and Stratford, by staff and volunteers of the Regional HIV/AIDS Connection. This was the focus for the agency of  AIDS Awareness Week and leading up to World AIDS Day on December 1st.
Scarves are knitted or crocheted by talented community members and donated to Regional HIV/AIDS Connection for this key awareness raising event. People who found the scarves were encouraged to wear them, take them home, read the attached information tag and spread the important message of awareness. In the first year over 350 scarves were made by people in the  area and beyond!
This year the Red Scarf project looks to reach their goal of over 1,500 scarves, which is over double last year.Jully Black, a Canadian juno award winning singer/song writer is supporting the Red Scarf foundation cause and will be doing a performance at the London Music Hall on November 24th called the Night of the Red Scarf, which will look to raise awareness for HIV/AIDS day on Decmember 1st. People looking to go watch the concert are urged to join in and wear a red scarf, as there will be volunteers at the door with scarves.
Jully says that charity is very important, especially when it comes to a cause like this, because "people in our day in age, especially in a country like this, can live through HIV/AIDS, and it's omportant we let them know that and give them the help they need to get through it."