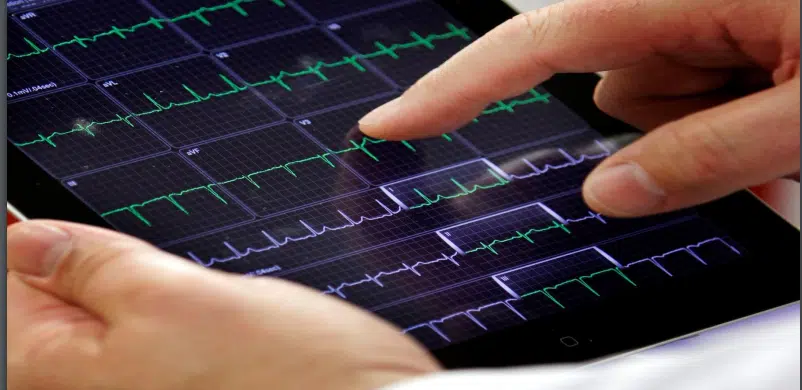 Middlesex-London EMS is teaming up with Future Health Services to provide free in-home patient care using medical technology to monitor patients and connect them with a team of medical professionals and family members. 
The technology allows medical professionals to monitor a patient's vital signs including heart rate, blood pressure, blood glucose levels, weight and blood oxygen saturation levels. If the monitoring system detects warning signs, a Community Paramedic will automatically be notified before symptoms worsen. Progress reports and alerts will be sent to authorized caregivers and family members updated online.
 Paramedicine Lead Dustin Carter says Middlesex-London EMS' free remote patient care program allows paramedics and caregivers to monitor a patient suffering from a chronic illness or condition from the comfort of their own without taking up space in the Emergency Room.
Patients eligible for free remote patient care must meet one or more of the following criteria:
Diagnosed with Chronic Heart Failure, Chronic Obstructive Pulmonary Disease, or Diabetes Mellitus

Made three or more 911 calls in the past 12 months

Two or more emergency room visits in the past 12 months
Carter explains that the program will not only improve the quality of life for chronic patients, but also allow community paramedics to serve more patients with the same resources and less money. 
Canada Health Infoway, an organization committed to improving the health care of Canadians, is funding the project to provide free remote care for more than 1,500 patients across eight Ontario municipalities. Executive Vice-President of Canada Health Infoway Jennifer Zelmer says,
"Innovation that helps improve the health and health care of Canadians is essential, and Canada Health Infoway is pleased to have invested in a project that aims to just that for Ontario residents."  
Below is video created by Canada Health Infoway to illustrate the benefits of Remote Patient Care: 
If you or a loved one lives at home in the Middlesex-London region and is interested in learning more about remote care, you can call 1-866-997-9923.