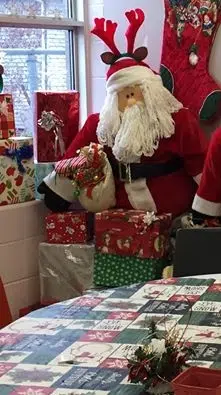 It's that time of year, where people may find themselves spending endless hours at various malls trying to pick out the perfect present for their family and friends. However during the holidays, we always see this one man in the mall who seems to bring the Christmas Cheer – I'm talking about the Mall Santa.
Becoming a Mall Santa takes a lot of work.
In Calgary, individuals will attend a professional Santa School, where individuals will help prefect their Ho-ho-ho's, smiling and handling situations as Santa would. Jennifer Andrews works at the school sharing a Santa isn't just about the personality – improve and character development are key.
She also says "We want to make a well rounded Santa, – no punn intended."
Once the skills of being the perfect Santa is perfected. The suit has to be bought or rented. At McCulloch's on Dundas, Dave McCullochs is the family store owner. He says over Halloween it gets very busy, and over the Holidays it gets a different kind of busy – adding he does rentals on various Santa suits varying in price.
McCulloch's also says he gets some customers who have been Santa's for years. Some of the guys who become the Santa's over the holidays will have their beards white and grown out.