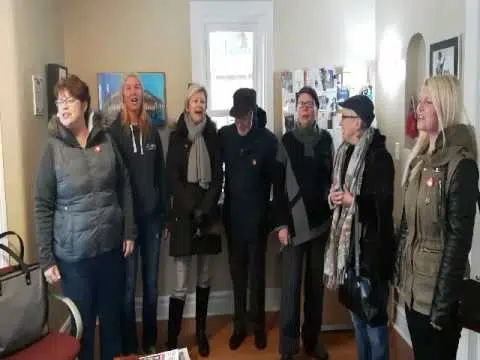 For the 57th week in a row, protesters have flooded the office of London North-Center MPP Deb Matthews, demanding a halt to the government's sale of Hydro One.
Every Friday at 12 PM, a small group of dedicated activists have transformed the small constituency office in downtown London into the site of a public demonstration.
Ange Thompson is a union leader who has been involved in the protest since day one. She says the Wynne government doesn't have a mandate to sell off the provincial asset.
"This Premier has no right to sell off Hydro One without a mandate from the people. She said she wouldn't do it and she did."
Thompson adds that that the turnout for this week was particularly strong and plans on continuing their weekly visits until their demands are met.
In the 57 weeks, and 57 visits, Matthews has yet to speak to the group.
The Ontario government has already sold off 30% of Hydro One, with plans on selling an additional 30% in the future.
Opponents say the sale will lead to higher hydro bills and less protection for consumers.