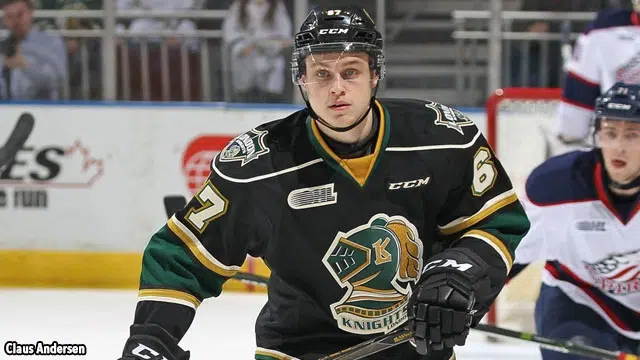 They've been in and out of first place for most of 2017, and tonight, they have another chance to get back to the top.
With a win tonight, the London Knights would pass Erie for first place in Ontario Hockey League standings. But standing in their way are the Kitchener Rangers.
London has gotten the better of Kitchener this season, winning all three meetings between the two squads. That includes a 6-2 win at Budweiser Gardens on December 11.
The Knights and Rangers are going in very different directions right now.
Kitchener has lost three of their last five games, giving up 21 goals in that stretch. They've fallen to sixth place in the Western Conference, and the Sarnia Sting are only four points back.
Meanwhile, the Knights made the most of an extremely challenging weekend, with games against Erie, Owen Sound, and Oshawa. After a heartbreaking last minute loss to Erie, they beat Owen Sound in a shootout, snapping the Attack's 15-game win streak, before blanking Oshawa on Sunday evening.
Before that, they scored a combined 18 goals in thrashings of Niagara (11-2) and Ottawa (7-2) on Jan. 20 and 22.
Even with the struggles the Rangers have faced lately, they're still a dangerous team, especially with league scorer Adam Mascherin. His 30 goals and 78 points in 45 games is nothing short of outrageous.
The Knights will be riding the hot hand of Mitchell Stephens, who has seven points in his last two games. He had a hat trick against Owen Sound, and his shootout goal snapped the Attack's streak.
It should be a great game tonight, as the London Knights try to get back to the top of the league, while the Rangers look to get back on the right track.
Puck drop is 7 p.m. at Budweiser Gardens.