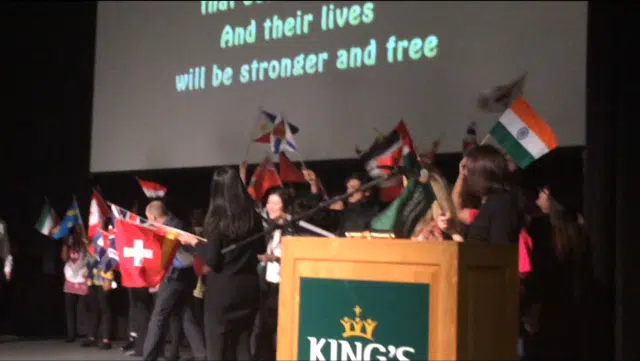 King's University College showcased the cultural traditions of its diverse students at their 14th annual Cultural Festival.
The event took place Wednesday evening at Kenny Theatre and featured a lineup of authentic song and dances from different groups.
The Iroquois tribes of London, Sisters of all Nations, Korean Arts, and the Pakistani Students Association were just some of the many acts to perform on stage.
Some groups even experimented with a fusion of different cultural traditions like the Indo-Celtic dance group, which blended together traditional celtic dancing and instrumentals with Indian song and dance.
Principal David Sylvester said during his opening speech the college is committed to embracing the diversity of its student population. Just this year, King's accepted over 499 international and exchange students.
At the end of the festival all the performers joined each other on stage while waving flags to the song
"We are the World" by Michael Jackson all in celebration of diversity.
Below is a video capturing some of the most memorable moments of the night: