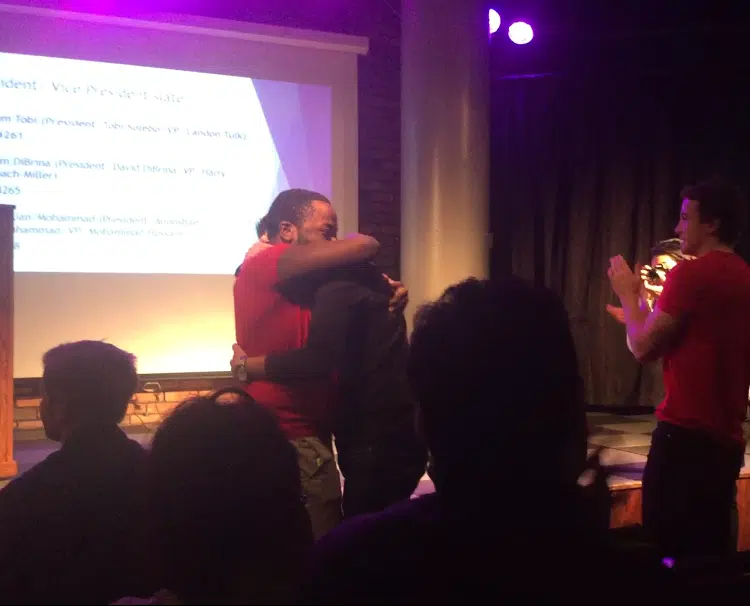 It's an up-hill battle every year for the Western University Student's Council in terms of getting their students out to vote.
Western has one of the lowest student government engagement levels in the country, and it's hard to put a finger on why.
This year however, voter turnout was increased by 4% in this years election that saw Tobi Solebo and Landon Tulk become the new USC President and Vice-President.
Almost 30% of students voted this year, which tops last years total of just under 25%. Over 9000 students voted, which trumps last year by almost 2000 voters.
"The slates this year had more appealing platforms, and they mobilized sections of the university that usually would never have an interest in voting," says Fourth-year Social Sciences student, and first time voter, Jessica Tomarchio.
"It's so much more than educating the students about what the USC does, it's about creating programs and events that actually make students want to engage," says former USC Presidential Candidate and current USC Councillor, David DiBrina.
Fourth-year Political Science student, Tyler O'Brien agrees," It's tough for a majority of students to care about what the USC does, when they don't care about student government to begin with, and on top of that they don't actually realize how much the USC does for their everyday student experience."
Being in the on-campus bar, The Spoke, for the moment that the new President and Vice-President were crowned was electric and inspiring if you're a fan of student politics. The chants, and screaming from supporters of all slates were deafening, but welcomed.
Student Enthusiasm Shines on During USC Elections
It will be interesting to see if this is an upward trend for the student engagement with the USC and their programs. Candidates are switching their focus from educating students on what they do, to actually implementing interactive programs and events that the student body wants and enjoys- and so far, so good.