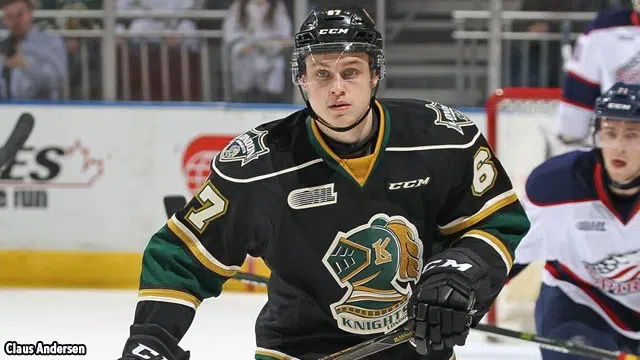 Heading into Jan. 28's game against the Owen Sound Attack, the London Knights hadn't won a shootout in over two years.
Today, they've won two in less than two weeks. Mitchell Stephens scored the winner in the mini-game on Wednesday night, as the Knights came from behind to beat the Flint Firebirds 4-3.
For most of the game, it didn't even look like it would get that far, as Flint opened up a 3-1 lead early in the second period.
But the Knights didn't go away; Adrian Carbonara scored before the middle frame was over to cut the lead to one, before Mitchell Stephens tied it up late in the third. It was a short handed tally, and came with just four minutes left on the clock.
Janne Kuokkanen also scored for the Knights; his 20th of the season.
With nothing doing in overtime, it was back to the shootout for London. But after beating Owen Sound in a SO to break the slump, luck was on their side.
Stephens scored the only shootout goal, and Tyler Johnson stopped all three Flint shooters, giving London the win.
This isn't the last the Knights and Firebirds will see each other; they play a home and home on Mar. 17 (in London) and 18 (in Flint).
London now moves to a tie with Erie for first place in league standings. They're doing a good job of keeping pace with a team that has won eight games in a row, and nine of their past ten.
The Knights are no slouches, though; they've won four of five themselves, and will look to keep rolling in Kitchener on Friday night.
They play a surging Rangers team that has also come out on top in four of five. It should be a dandy at the Memorial Auditorium in Kitchener.