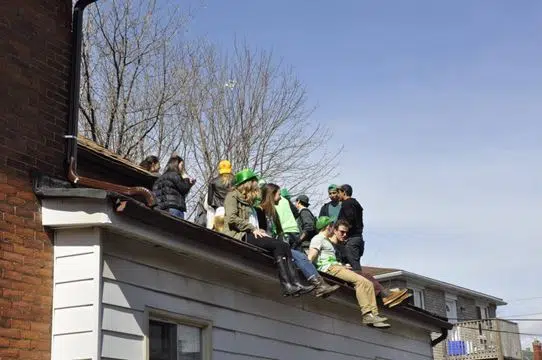 This year St. Patricks Day is expected to be a lot more 'grounded' in London. Ever since the Fanshawe riots on Fleming Drive a few years ago, police have been searching for ways to allow for a more safe, and controlled environment on days like Western Homecoming and the much anticipated St. Patricks Day.
This year they have went one step further in their attempts by passing a by-law that will prohibit drinking on roof-tops. A maximum $750 fine could find its way to your doorstep if you are seen partaking in rooftop drinking.
For years, this has been a tradition at both Western and Fanshawe on certain days of the year. The infamous Broughdale Avenue is littered with rooftop drinkers on Homecoming, while to a lesser extent, the same could be said about St.Patricks Day.
"I think that the by-law is intended for the right reasons, and that's the safety of students. I just feel like the city has more important issues to be worrying about" said fourth year Western Student Nick Lorenzi.
There have been a few incidents of students falling off rooftops while consuming alcoholic beverages in the past few years. Most notably a couple of years ago on Western homecoming a female student fell off a roof on the infamous party street, Broughdale Avenue. She needed immediate medical attention, which she was unable to receive because of the student foot traffic in front of the ambulance. Paramedics eventually took the stretcher out of the back of the emergency response vehicle and wheeled it all the way down the street to where the student was. She was treated and would be okay, but police say that just can't happen again.
Many students are confused about the legislation because it will really only be relevant two days a year.
"Safety is obviously a huge concern when you're drinking on a rooftop, but, every student should take responsibility for themselves. I think it's a slippery slope to legislate where you can and can't drink in your own home." said fourth year Western Student Tyler O'Brien.
London Police and by-law officers numbers have been ramped up for this Friday in anticipation of thousands of students drinking during the day.