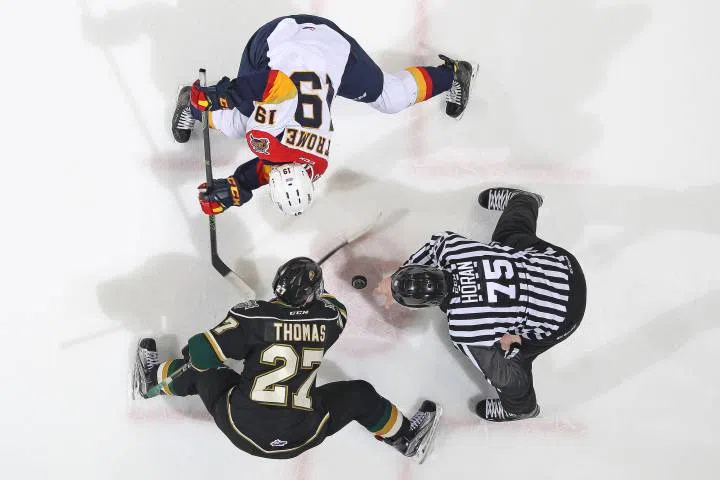 Over the last two seasons, these teams have faced-off twice in the postseason with both sides earning their own four game sweep.
In 2015, it was Connor McDavid leading the Otters past the Knights.  Last season, Erie was just one of three teams London swept on their way to the Memorial Cup.  But don't expect the Knights to dominate this series in a similar way.
The Otters won 4 of the 6 meetings this season, and outscored London 25-14.  They were a team led by the 4-headed monster of Alex DeBrincat, Dylan Strome, and the two Raddysh brothers, Darren and Taylor.
This season against the Knights, they combined to score 33 points.  Small potatoes compared to their 1st round series versus the Sting, in which they totalled 40 points in just 4 games.
On the other end, the only London skaters who had some success in the matchup this season were Sam Miletic and Owen MacDonald—both scored 3 goals and added an assist in 6 games.
But the Knights have plenty of hot-hands heading into this series as well.
Janne Kuokkanen and Robert Thomas are tied for the team lead in points with 8 apiece.  And Mitchell Stephens is showing why London acquired him at the deadline-  4 goals, 2 of them game-winners.
Both teams took very opposite paths to get through the first round.  The Otters have been off for 8 days since eliminating Sarnia 4-0, while the Knights went the distance against the Spitfires and wrapped up their series less than 2 days ago.

Schedule:
GAME ONE at Erie: Thursday, April 6th (7:05)
GAME TWO at Erie: Friday, April 7th (7:05)
GAME THREE at London: Tuesday, April 11th (7:05)
GAME FOUR at London: Thursday, April 13th (7:05)
GAME FIVE at Erie: Saturday, April 15th (7:05)**
GAME SIX at London: Sunday, April 16th (6:05)**
GAME SEVEN at Erie: Tuesday, April 18th (7:05)**
** if necessary