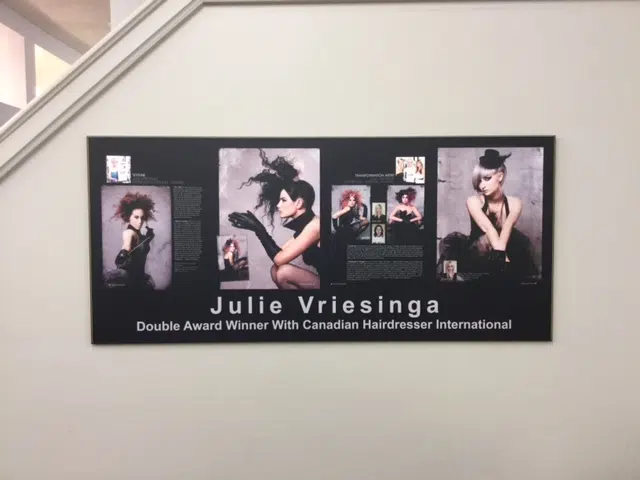 After 14 years in the business and much recognition, Julie Vriesinga is once again in consideration for some hardware. The stylist and Artistic Director at Salon Entrenous was nominated by the North America Hairstylist Awards for Hairstylist of the year for 2017. Vriesinga is also a finalist for Canadian Hairdresser Magazine's Ontario and Canadian stylist of the year.
These three nominations add to the Salon Magazine's Contessa Award for Session Stylist of the Year that Vriesinga has already won this year.
The nomination from the NAHA comes as a relief as Vriesinga has submitted her work three years running. She says these awards mean everything to her because she has been submitting work annually since 2005. To date; Vriesinga has been the recipient of the CHM's Mirror Award for 2005 Newcomer of the Year, 2009 Texture, and 2009 Transformation Artist of the Year, Canadian Hairdresser 2014 and 2016, and Ontario Hairdresser of the Year 2015.
Vriesinga remains humble despite all of the accolades. When asked how she separates herself from other Stylists, she mentioned her admiration for everyone that she works with and how they inspire her to be great. Salon's Entrenous' Communications Director Mary Jansenberger went as far as to say that Vriesinga has no ego and is the ultimate team player. Her creativity and willingness to learn from others are what push her to be the award winning Hairstylist that she is.
Other than those around her, Vriesinga draws inspiration from current trends. You'll often find her on the internet looking at seasonal fashion or flipping through an Italian Vogue magazine to brainstorm ideas for her next photo-shoot.
Las Vegas is where the North American Hairstylist Awards will be held July 9th. Until then, Vriesinga will continue to work with her clients and the other stylists at Salon Entrenous on Richmond row. As a mother to three young boys she also balances a busy home life. Vriesinga credits her husband, the rest of her family and her team at Entrenous for making it all possible.
For more images, check out @salonentrenous on Instagram!