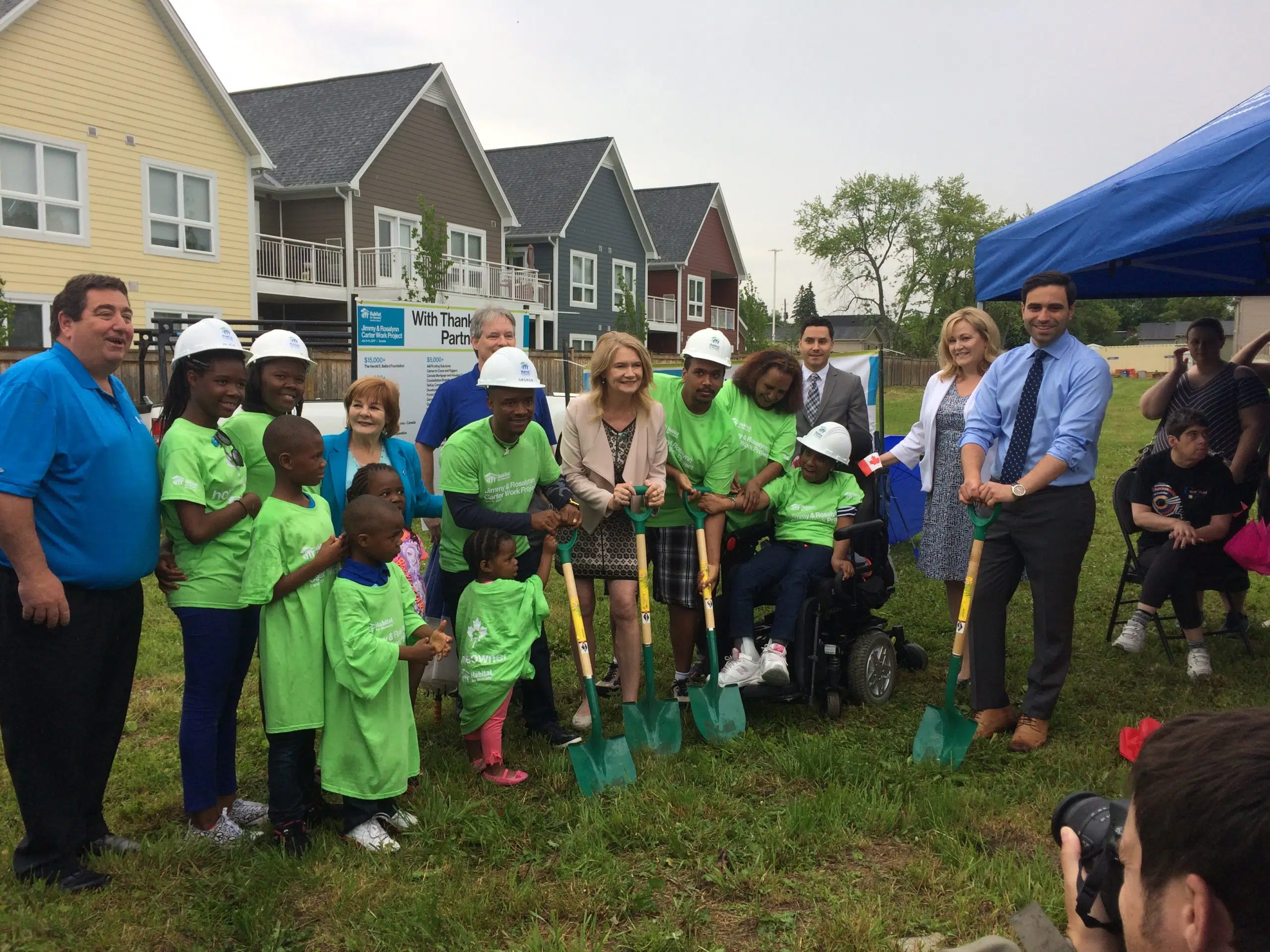 Every year Habitat International chooses a country for Habitat to focus their efforts on. This year, they chose to celebrate Canada's 150th birthday by building 150 homes across Canada. Today, they broke ground on two homes on Forbes Street that will belong to the Kassa and Cooper families.
CEO of Habitat for Humanity Heartland Ontario, Brian Elliot, says that anyone can apply. "Our criteria is… that they have to be at the low income level and that they are unable to get a home through traditional mortgage financing." They then go through a selection process where they meet with the families and families must complete 500 hours of sweat equity in order to be chosen.  Habitat for Humanity defines sweat equity as the hours families put into building their new homes, the homes of their neighbours and towards self improvement. By doing these hours they help in reducing the cost of their home.
It is tough for the Habitat for Humanity staff to decide what family gets a home as all who apply are dedicated to finding a safe home. Elliot says that these families are "really looking forward to the future. They want that safety, they want the stability of shelter and they want a spot where their kids can grow up to do better in life; really want to get rid of that cycle of poverty."
George Cooper, his wife and 5 children moved to Canada as immigrants in 2005. Cooper is originally from Liberia. He fled to Ghana; where he stayed on a refugee camp of over 76,000 refugees after war broke out in his home country.
When asked how he feels today, he said "breaking ground on our new home is so overwhelming, it's exciting, it's a blessing, it's just everything that words cannot describe… looking at where we came from and where we find ourselves right now to be having a home constructed for us… it's a blessing."
Cooper says "I'm looking so forward for my kids having their own place to be able to play and call home."
Elliot hopes that the families will be in their new homes before Christmas.