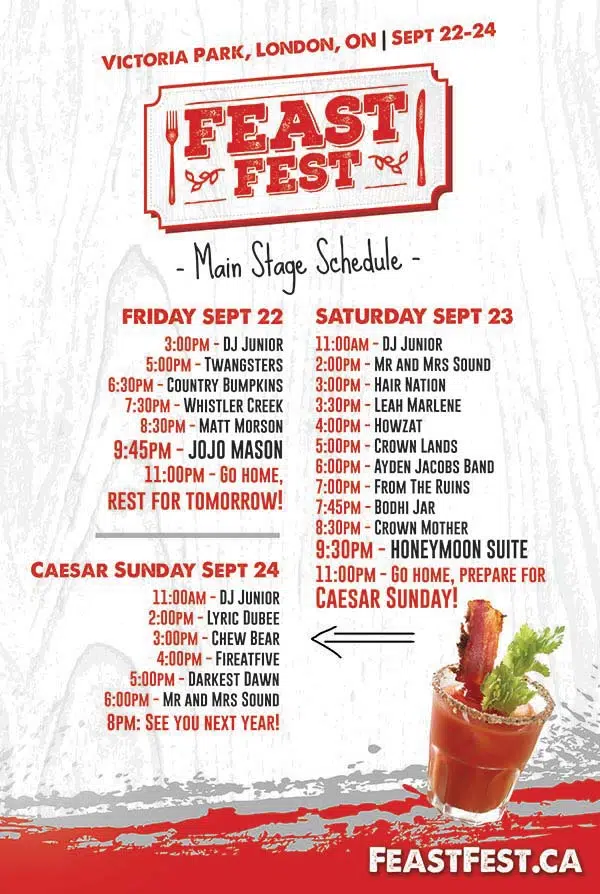 Londoners look to gather in Victoria Park this weekend and get their grub on as the first annual Feast Fest wraps up its 2017 edition.
The last leg of the touring summer food festival was preceded by takeovers of Sudbury's Bell Park in late June, and Midland's Harbourside Park in late July.
Feast Fest features a wide variety of food vendors with options ranging from Barbecue Chicken to Enchiladas and even Spanish Paella. For those looking for more of a sugary treat- the festival offers many dessert options, the likes of which are highlighted by Beaver Tails, Banana Boats, and Funnel Cakes.
In addition to the delicious cuisine, there will be several live music acts, art displays, and craft sales all around the Victoria Park site. Live music guests include Jojo Mason on Friday night and Honeymoon Suite on Saturday evening with a number of unnamed special guests set to perform as well.
Feast Fest London is an all-ages event with proceeds being donated in support of the London Food Bank.
Hours for the festival are as follows:
Friday, September 22nd noon-11 pm
Saturday September 23rd 11 am-11 pm
Sunday September 24th 11am-8pm
For more information on the event, visit: www.feastfest.ca