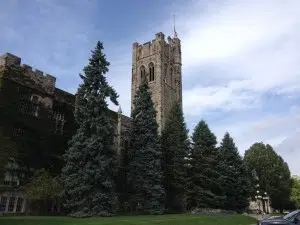 Women looking to combine their Engineering and Business degrees will receive a big boost from Western University.
Announced on Wednesday evening at the Grand Hall of the Richard Ivey building- the Linamar Corporation headed by CEO, Linda Hasenfratz donated $5 million dollars to support female students enrolled in the prestigious dual Engineering/Ivey Business program.
The generous donation will cover half the cost of tuition for undergraduates in the program from years 3-5 and aims to continue supporting students for the next 15+ years. In addition to financial support, the Linamar corporation will provide paid summer internships in years 3 and 4 as well as a full time job offer for graduating scholarship-holders.
Hasenfratz explained why she chose to donate to Western.
"They're the only school in Canada that has a duel degree program that you can go to for 5 years and get your engineering and business degree. I also think that [Western] has a fantastic reputation for both its business school and engineering school which makes us happy to be partnered with them."
Hasenfratz herself is a proud Western alumna and hopes to encourage more young women to pursue leadership positions in the business and production aspects of the manufacturing industry.
For more information on Western duel degree programs like this, visit: https://www.ivey.uwo.ca/hba/program-details/dual-degree-opportunities/