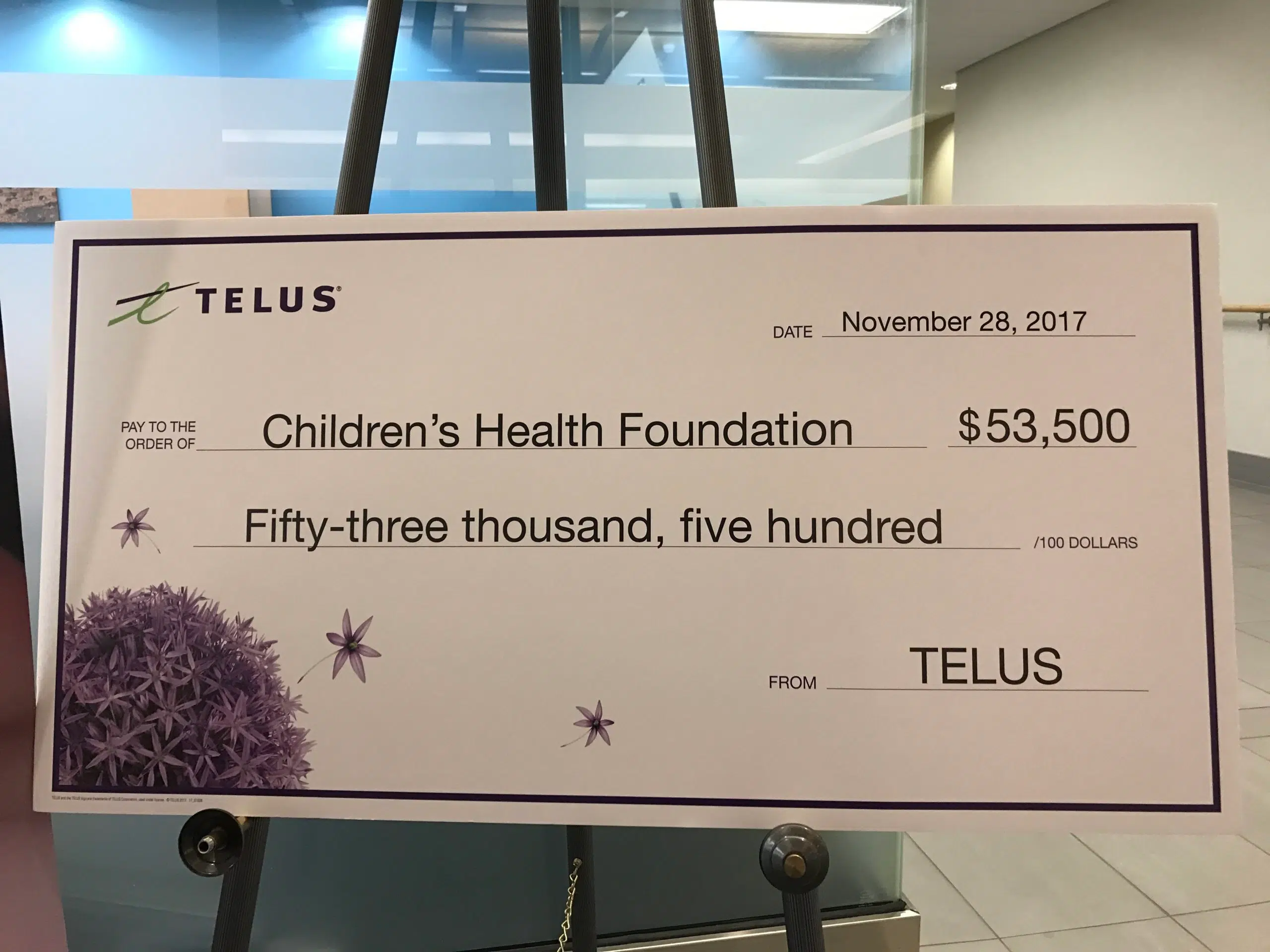 Today, TELUS donated 53,500 dollars to Children's Hospital.
Buy a new phone and perhaps you can help make a difference to a child's experience in hospital. That is part of TELUS' Phones for Good campaign, through the campaign, $25 from each new smartphone activation with TELUS in the south western Ontario area from July 1 – September 30th was donated to London Health Sciences Center.
Another part of the funds come from TELUS Beach Stunt campaign. About this campaign, visitors to Port Stanley Beach arrived to find the beach had been covered TELUS-branded umbrellas, symbolizing the strength and vast coverage of TELUS network. Each attendee received an exclusive product offer and an invitation to register for a contest with $5 from each unique entry being donated to London Health Sciences Center.
"I feel grateful for TELUS donating this to us because it truly helps kids in the hospital that have gone through similar experiences," says Caleigh Turnbull, she is a former patient of Children's Hospital, she went through a car accident when she was 4 years old, thanks to the treatment and services of the hospital, she's fully recovered.
Former patient Caleigh Turnbull and her mother Deborah Turnbull attend today's TELUS donation event at Children's Hospital. pic.twitter.com/YSH6PxmizT

— XFM News (@XFMNews) November 28, 2017
Joseph Garten, Marketing Director of TELUS talks about their strategic pillars.
"That is just part of our DNA and this campaign itself as we were looking through something in south west Ontario, we were looking at something that would resonate with the community and also line up our strategic pillars, and a couple of those being healthcare and helping children and youth," says the Director.
He also says, "I think to do well in business, you need to really get back to local community where we have team members who live and serve our customers so it's really important to us to really embed ourselves to be part of the local community and really try our best to help out and drive a positive social outcome."
TELUS is donating 53,500 dollars to Children's Health Foundation to support highest priority need at Children's Hospital. pic.twitter.com/NcaV6qk7D4

— XFM News (@XFMNews) November 28, 2017
Scott Fortnum is the President and CEO of Children's Health Foundation.
"If I have some extra dollars in my pocket that I can afford to spare, I know that my dollars can have a very positive benefit to a child and their families because I say don't give it like it hurts, give it like it feels good," says he.