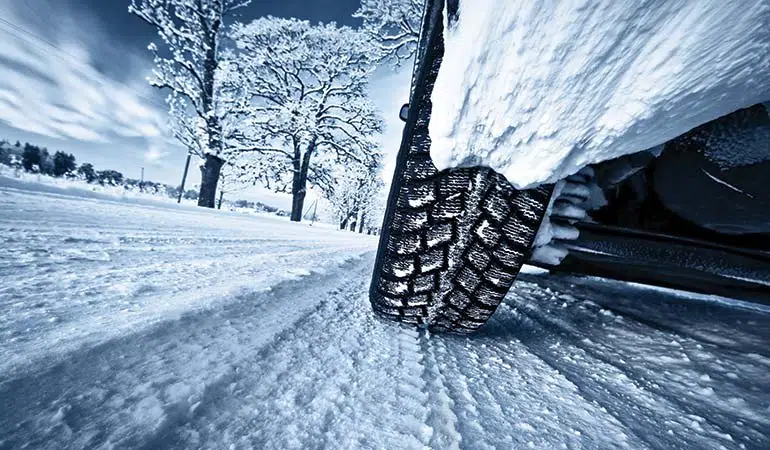 Driving safely and making sure your car is as prepared as possible for any situation is a huge thing no matter what the season is, but when it comes to Canadian winters it is even more important. Driving on slippery roads with tires that don't have great traction can present some problems. Often people aren't prepared enough for winter driving before they decide to head out to the streets.
Most people don't really understand the importance of making sure you have winter tires on your vehicle before the snow flies, they often think it is okay to just leave all season tires on their vehicles because they are supposed to be made well enough to handle winters. Although all season tires do work in the winter they are definitely not the best choice to maximize your vehicles safety. It's hard to predict what the road conditions are actually going to be like. There is no way of knowing for sure that all of the roads you need to travel on are going to be 100 percent snow and ice free.
Having the extra tread provides more traction when driving which is a huge benefit to winter tires especially when driving on unsure or icy conditions, when trying to stop with all season tires you need to leave lot's of room in order to give yourself the time to stop but with winter tires the stopping distance becomes less. Another major thing to always check is your tire pressure. You want to make sure your tires are always at the appropriate pressure to maximize their safety and make them last longer.
If they safety behind winter tires is still making you hesitate to spend the money and put them on your vehicle them maybe the insurance break will motivate you. Most insurance companies give a bit of an insurance break once winter tires have been placed on the vehicle because they are supposed to provide more safety with your vehicle.
Before you head out on the road you should also make sure you gas tank is full or at least 3 quarters full. You might be thinking that its going to get more expensive trying to make sure it is always full but having a full tank is always best. You never know what can happen when you are out driving around. If for some reason you get stuck or in an accident having a full tank of gas will allow you to keep the car turned on so that you can stay warm. You should also always make sure to have an extra coat, pair of mitts and a hat in case you do get stuck and need some extra warmth while waiting for someone to help.
Making sure your windshield wipers are in good condition is also another great way to prepare yourself for whatever Mother Nature throws your way. Having windshield wipers that are starting to cause streaks on your windshield is a very dangerous thing when driving when it's snowing. The wipers often freeze and then start cracking when the temperatures get too cold therefore causing them to not clear your windshield properly. Making sure your wipers are in good condition and that you have plenty of washer fluid is very important.
Changing your tires and wipers are very typical things to do when it comes to preparing for the winter but there are often things under the car that should be checked as well.
Having your vehicle prepared for winter is extremely important so that you are ready for whatever weather you might encounter when driving. If you have a truck it is always a smart idea to put something in the back in order to help keep it weighted so that you are less likely to lose control of the back. Another thing to be cautious about is always watching the weather and drive carefully according to the weather conditions you might be facing.