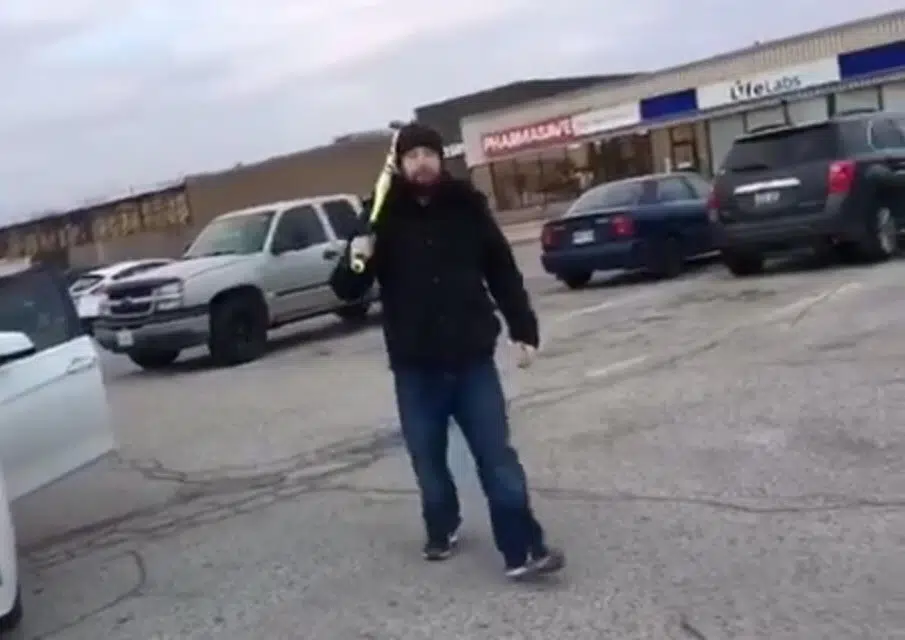 St. Thomas police have charged a suspect after a man wielding a baseball bat was captured on video hurling discriminatory terms and attacking a family.
Police were called to Elgin mall at around 4:30 Thursday and are now investigating the incident as a hate crime.
A video captured at the scene shows a man getting out of a white BMW and confronting the family. In the video, he appears to swing the bat at a member of the family after screaming "terrorists" and "ISIS."
"My sister had to sleep with my nephew last night, because all he could think about was a guy coming out of a car with a baseball bat," said Gustavo Roldan, a member of the family attacked.
"I mean, they were speaking Spanish, and this man comes out of a car wanting to kick you out of the country for it? it doesn't make any sense to me."
WARNING: The video below, posted to Facebook, contains profane language and should be viewed with caution.
To my friends in Canada and in the province of Ontario, if you see this vehicle a White BMW license plate CBWK367 or see this man, please call your local police station. This man is a racist and went to attack my 13 year old nephew with a baseball bat, and calling him a terrorist. As this individual went to hit my nephew, his father stepped in to prevent this man from beating him. Due to this fact my brother in law got the attack on him causing him to have sever bruising to his back, and several broken ribs. PLEASE SHARE THIS POST TO FIND THIS MAN!! I greatly appreciate it.

Posted by Gustavo Roldan on Thursday, December 7, 2017
Police say a suspect took off in his car, but was arrested in south London around 9 pm.
A 36-year-old Toronto man has been charged with aggravated assault and assault with a weapon, and was held in custody pending a bail hearing Friday.
Gustavo Roldan, a resident of Tampa Bay, Florida, told XFM news that he never would expect this to happen in Canada, but says he feels his current president is emboldening these outbursts.