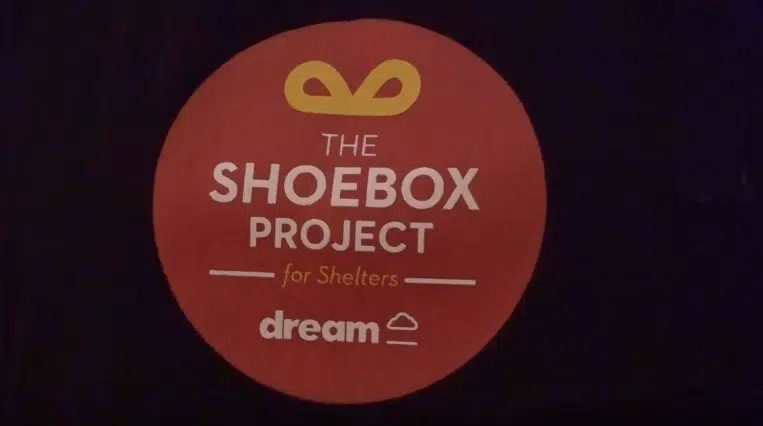 About 150 women walk through the doors of My Sister's Place throughout a year. Almost all the women have no gifts or anything nice happening for them at Christmas. They are often isolated, living in extreme poverty, homeless or at risk of homelessness.
That is the reality of a familiar situation for many in London, and those numbers are only from one of the organizations available to provide assistance.
The Shoebox Project aims to change that negative holiday experience for the homeless, vulnerable, or at-risk women in the city by sharing shoeboxes filled with gifts to them. Lisa-Merona Goven is a returning volunteer with the project in London and explains why it is so important to have an organization like this.
"It's so necessary for women who may be estrange from her family [and] alone… The holidays may be a difficult time. A shoebox filled with gifts from another woman within our community can be a powerful message to let her know she is not alone and that she is a valued member of the community."
"It broadens the sense of sisterhood – of sisters helping sisters."
The project partners up with shelters and agencies within the London community, such as My Sister's Place. Director for Community and Women's Programs of CMHA Middlesex and My Sister's Place, Susan Macphail, says it broadens the sense of sisterhood – of sisters helping sisters.
"Often the women we meet carry a lot of burden and stress, that that moment of being in a very happy place of receiving gifts goes a long way. They feel joyful, happy [and] that they matter. That's huge."
In preparation for Christmas, community members are asked to fill decorative boxes with items that add-up to an approximate $50 value to give to those in need. Suggested items include something warm, something sweet, self-care and pamper items, gift cards, and a heartfelt personalized message to the women who will be receiving the box.
Goal: a shoebox for every woman
Michelle Foote is the volunteer coordinator of the project in London. She says it is "the perfect project" for London. "What I like the most is getting the community involved. What is great about this program is that it is something tangible that the community can just do – that your gift that you create is given to one person here in London."
Foote says that their goal this year is have a shoebox for every woman who is homeless or at risk of homelessness, estimated at 2,000 boxes.
In the future, Foote says she would like the project to be out of business. "The perfect Shoebox Project would be that there isn't one. That there aren't any homeless women anymore. Ideally, we would like the number to be zero."
The Shoebox Project will run until December 18th, but volunteers from the program are known to collect them until the final days to Christmas to ensure they can all be deliver and make somebody's Christmas. For more information on how to put this gift together or get involved, visit their website.