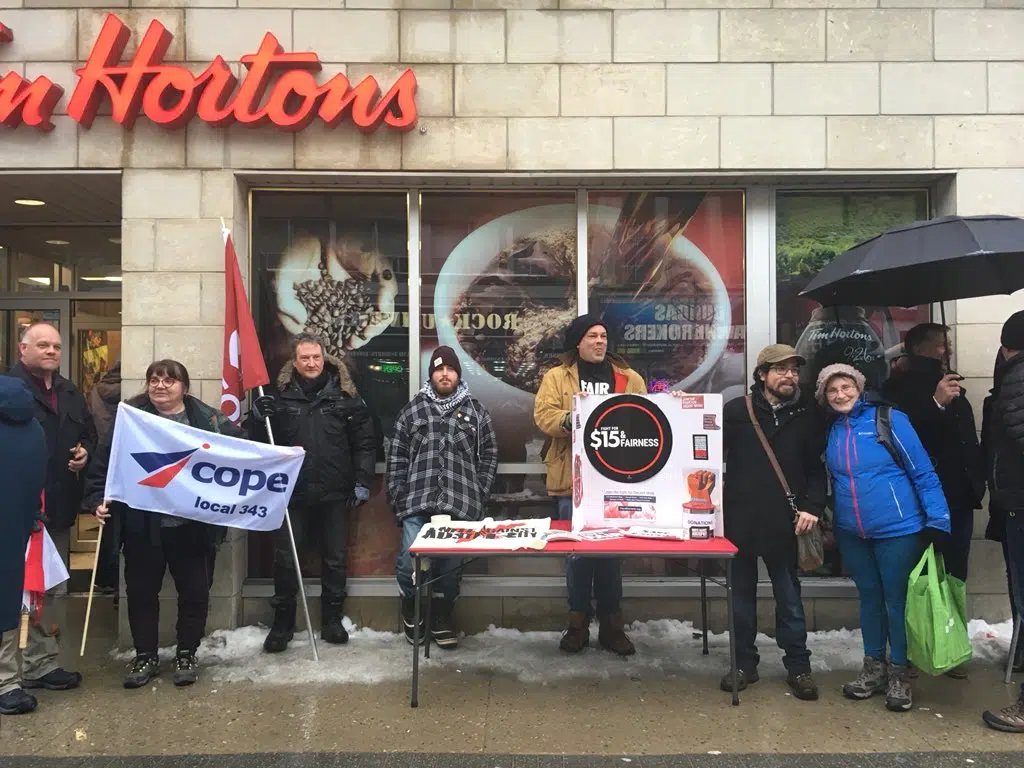 Organizer Patti Dalton, president of the London and District Labour Council, said the negative fallout from the hike is 'shameful.'
"If Tim Horton's corporate doesn't act to make sure workers are treated fairly, we are going to continue to mobilize across the province and keep the pressure on them," she said.
Consumer anger comes after franchise owners in Cobourg and Kingston, Ont., recently told their workers they're eliminating paid breaks and some benefits in response to the province's minimum wage hike.
This caused a major backlash across social media and prompted an online movement called "No Timmys Tuesday" that encouraged Canadians to buy their brew from independent coffee shops.
Protests took place throughout the day across Ontario, including Toronto, Guelph, London, Peterborough and Windsor.
#ONTARIO workers & allies!#CallToACTION: Join these Over 15 Actions For #TimHortons Workers TOMORROW January 10:
With @OFLabour (Ontario Federation of Labour) & @fightfor15 – #FightFor15 & Fairness!#ONpoli #MinimumWage pic.twitter.com/2mJ86HtKI7

— NDP Grassroots (@NDPGrassroots) January 10, 2018
"They (Corporate) have been trying to distance themselves from the various franchises who are mistreating their employees, but they absolutely can control what is happening," said Dalton.
Representatives from unions including Unifor, the Canadian Union of Public Employees and the Service Employees International Union raised flags and signs on Wednesday.
"I think if they really feel the minimum wage hike is unfair, open your books and show us how a Tim Horton's operating in downtown London isn't making money," said one protester with COPE Local 343.
A growing crowd of labour groups are here supporting rights for ALL workers. #15andFairness #LdnOnt pic.twitter.com/2LYTS502Kj

— Amanda Stratton (@AmandaStratton) January 10, 2018
The abrupt changes happened after Ontario's minimum wage jumped from $11.60 per hour to $14 per hour on January 1. It's set to increase to $15 per hour in January 2019.
"The increase in minimum wage is ultimately a small win for us, but we will continue to push for thousands of working class Canadians who struggle to put food on the tables for their family's until they receive a living wage," said Patti Dalton.
Dalton says she encourages affected employees to receive help and guidance from the Workers Action Centre hotline.