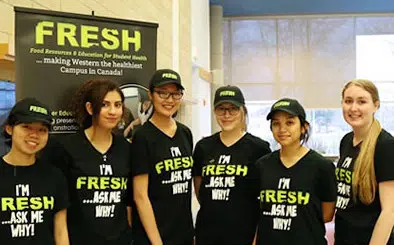 How well do you know your food?
That is a question that FRESH Western poses to students on a regular basis across UWO's campus. FRESH is a partnership between Brescia University College and Western's Hospitality Services that strives to make London's resident university among the healthiest student environments in the country.
FRESH stands for Food Resources and Education for Student Health and prides itself as a "research-based, multi-strategy nutrition education program designed to increase awareness, build skills, reward healthy eating and influence the campus foodservice environment."
Head of FRESH and Nutrition Manager of Hospitality Services at Western, Anne Zok, leads a team of students that frequent various spots around campus providing cooking demonstrations, roundtable discussions, while consistently offering information on healthy eating.
One of the ways in which FRESH promotes healthy choices across campus is through their line of Healthier4U vending machines, in addition to FRESH approved meals available in all 7 of UWO's residence dining halls.
"The primary goal of FRESH really is food literacy. When you think of food literacy, its knowing where your food comes from, its knowing how to prepare foods. If a student or individual does not know what to do with a food item, its not going to move the local movement." -Anne Zok
FRESH encourages buying local as well as seasonal with an emphasis on supporting community members.