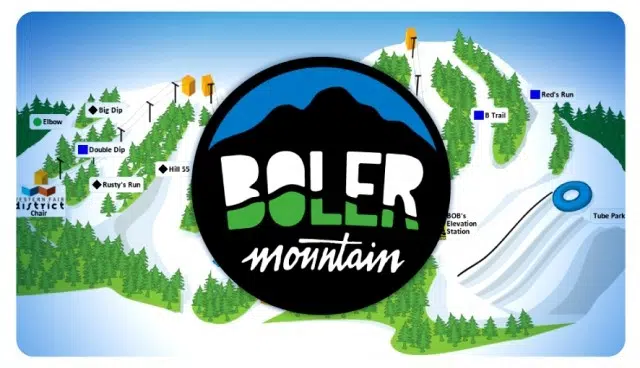 With the last three days hitting temperatures of around plus 10 degrees or higher, virtually all the snow in London has melted away. How does this warm weather patch affect Boler Mountain? Quinn Murphy, a Boler Mountain ski instructor for nine years, says no. "We were lucky enough that earlier in the year we got pounded with a lot of snow, so we were able to establish a good base. With snow, the more you have accumulated the slower it melts, so we've been able to hold of the melt pretty well… Plus it's been dipping below zero every night so we've been able to make quite a bit of snow."
Murphy goes on to say the snowmaking team and machines are top quality, but he confesses that if the weather continued in this range for a week, it would be difficult to remain open. "It's not ideal, we have some puddles near the bottom and if it stays like this we could close for the weekend," says Murphy.
Luckily, London is getting hit with 15cm (give or take 5cm) of snow tonight, and as temperatures continue to drop towards the weekend, Boler will be able to confidently remain open for business.
Murphy is also a student at Western University and says he hasn't noticed any decrease in his hours from the warm weather. Check out the video to watch Murphy share why he loves spring skiing.
Although Murphy prefers spring skiing, he recognizes that more snow and colder temperatures mean more business for Boler Mountain, In fact, Murphy says that many people have been calling in to check if the mountain is open. In order to stay up to date with Boler Mountain's operational announcements, Murphy directs patrons to the Boler Mountain website or the twitter page. Murphy tells us that weather, permitting, Boler hopes to remain open until at least March 17th.