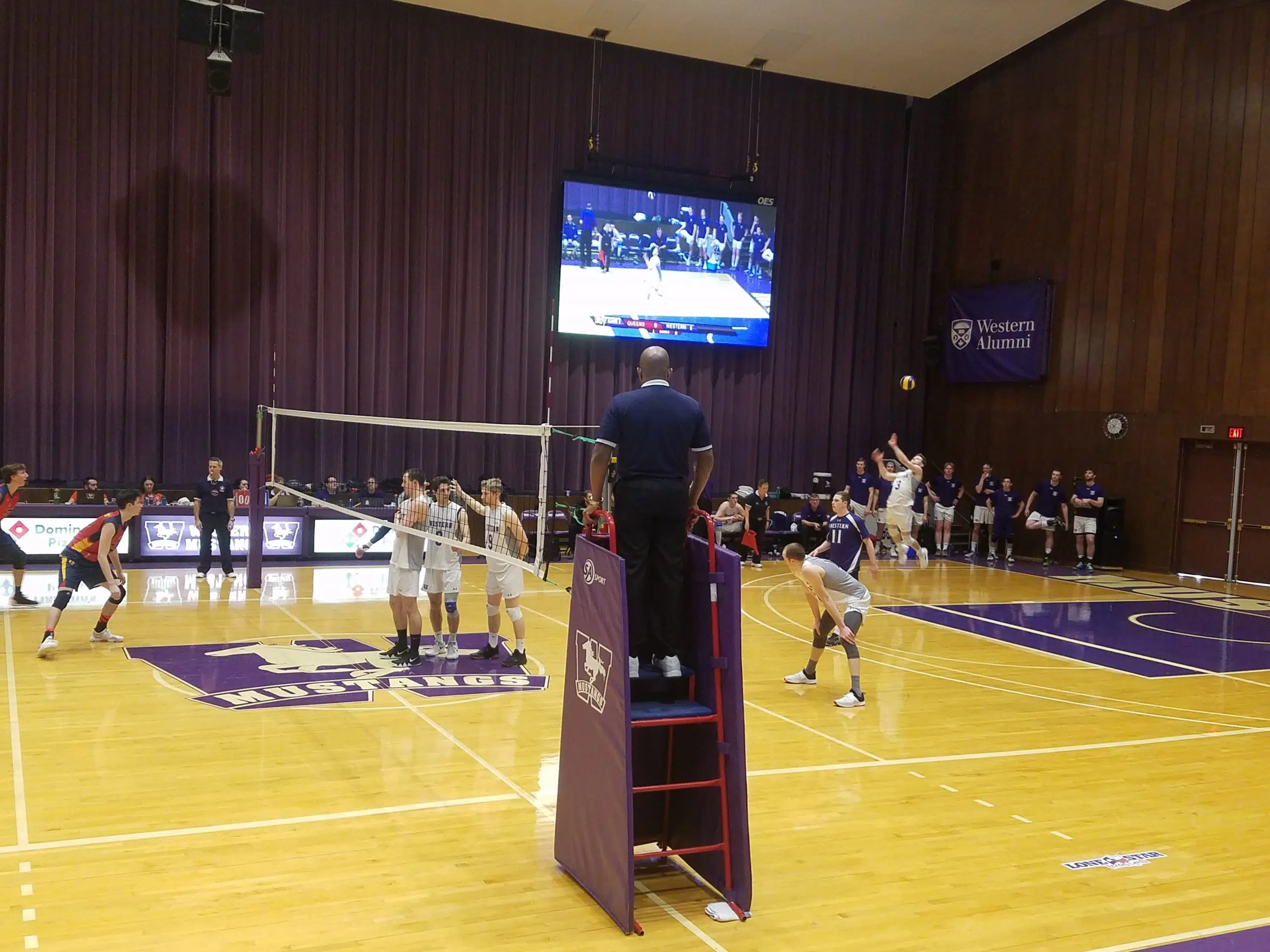 The playoffs came and went rather quickly for Western's men's volleyball team.
The Mustangs found themselves on the receiving end of an upset in the quarter-finals. After a 14-3 regular season (8-1 at home), Western sat 2nd in the West division and looked poised for a deep run in the OUA playoffs. Their season even included a 9 game winning streak that stretched from November 17th to February 11th.
The 10-8 Gaels have a deep run of their own planned and weren't about to travel all the way to London and watch it end.
Queen's came out strong scoring the first 3 points of the opening set. It would take a huge block from Western's Bryn Ramsay to give the Mustangs some life and set the tone for a very close set that would at one point be knotted at 15. The Gaels would end up taking the first set 25-22.
Western would continue to keep it close throughout the next set as well. They were able to keep a late lead and take the set 25-22, evening up the match at 1 a piece.
Queen's would find some separation in the third frame. With the score tied at 15 they would rattle off 8 unanswered points and leave no doubt as to who was taking the pivotal set.
Queens' captain and third year Civil Engineering student, Zac Hutcheson revealed their plan to keep Western off of the scoreboard. " The big thing for us was serving. We decided to serve tough against these guys, we knew that if we served tough and kept them out of the middle that was a big part of their offence. Another thing was our blocking. We tried to stabilize our blocking throughout practise the past two weeks and it definitely showed today."
Despite a close fourth set, Western's men failed to find an answer for the Gaels' cross blocking schemes and set up a fifth and deciding set. Queen's wrapped up the final set 26-24, giving them the 3-1 win at Alumni Hall and eliminating the Mustangs.
The Queen's Golden Gaels defeat the Western Mustangs in Men's Volleyball quarter-final action, 3 sets to 1 at Alumni Hall.

Match-point highlight: pic.twitter.com/wzWG9cvEsu

— XFM Sports (@SportsXFM) March 3, 2018
" That's our 1st away win, besides against the weaker teams in the league, so it was great to come in here and show our true colours. It was awesome." Said Hutcheson post game.
After a really good regular season and earning a home playoff game, the loss is no doubt disappointing for the Mustangs. Head Coach Jim Sage spoke about his team's performance after the defeat. " We didn't have our best match overall, we showed at times that we can play. They dug a lot of balls and they stayed in system more than we did." 
Sage especially feels for his veteran players. He hopes that the lessons they've learned through sports will stay with them into the next stages of their lives." It's too bad for the seniors, we were hoping for more from the season. But what I tell them is it's a volleyball game, there's more important things in life."
For now, the Mustangs men's volleyball team will take a break and regroup before planning for next season and beyond. The Gaels will await their semi-final match versus either the Waterloo Warriors or the Ryerson Rams.