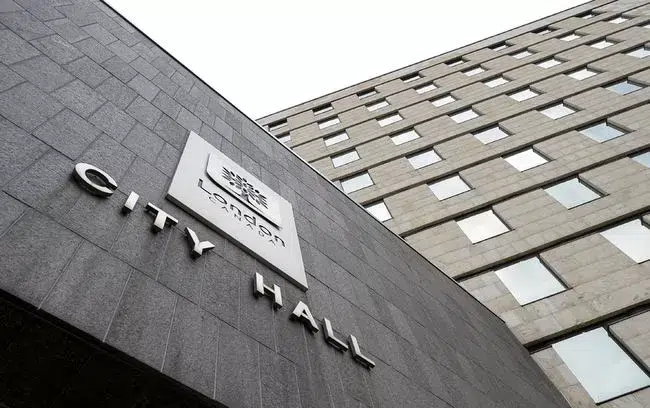 Allegations of harassment erupted at city hall Monday night, just hours after London city council went behind closed doors at a hastily called special meeting.
Megan Walker, executive director of the London Abused Women's Centre, says she's supporting city employees who she says have faced harassment and retribution on the job.
"We are still receiving a huge number of phone calls from those who have experienced some form of harassment in the workplace, and those who have experienced retaliation after standing up for the individuals who have been harassed," said Walker.
City work sites extend beyond city hall, to locations such as social assistance offices and fire halls.
"How inclusive and supportive can a workplace be when those coming forward in support for those who have been harassed are retaliated against," she said.
City manager Martin Hayward sent an email to all city staff — the same statement was released to the media — urging any employees who have "experienced or witnessed behaviour that is not aligned with our commitment to a safe workplace to come forward."
Hayward also took aim at the "vague accusations" levied against city hall.
"But if Martin Hayward thinks these allegations are vague and is unaware what's happening with his employees, then it tells me he is not paying attention, or Mayor Matt Brown has failed to communicate this information to him," said Walker.
According to Walker, she spoke with the mayor Friday in wake of the allegations, who vowed to help complainants in following a different reporting process from the current one, which she says is broken.
"He guaranteed this to me, that complainants wouldn't have to follow this process, and yet, it's the exact same process Martin Hayward has brought forward," she said.
Walker says Monday's two-hour council meeting to address these allegations didn't result in a sufficient enough response by the city.
"For any council to have a two hour meeting to discuss these issues, and then come out and distribute a letter to the employees saying we have a safe workplace has absolutely missed the mark."
Walker took to social media Monday evening to ask for an official apology on behalf of city council.
"But I would also like to see a thorough investigation done by a third party organization to address this systemic issue," she said.
"This isn't a problem that can be dealt with from the top. This must start at the bottom and work it's way up to truly address these issues."
When XFM news reached out to the city for comment, no response was given.