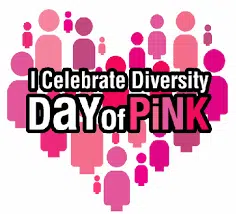 International Day of Pink is a day where communities across the country, and across the world, can unite in celebrating diversity and raising awareness to stop homophobia, transphobia, transmisogyny, and all forms of bullying.
The International Day of Pink was started in Nova Scotia when 2 straight high school students saw a gay student wearing a pink shirt being bullied. The 2 students intervened, but wanted to do more to prevent homophobic & transphobic bullying. They decided to purchase pink shirts, and a few days later got everyone at school to arrive wearing pink, standing in solidarity. The result was that an entire school took a stand and began working together to prevent homophobic & transphobic bullying.
Karen Vecchio, Conservative Shadow Minister for Families, Children and Social Development issued the following statement celebrating the International Day of Pink:
"Along with my Conservative colleagues, I am proud to wear pink today to stand up against bullying and discrimination.
"Any form of bullying and discrimination, whether at school, at work or anywhere in our communities is unacceptable and has to stop. We as Canadians should celebrate our differences and together, we have the power to create safe and caring communities.
"No one deserves to feel alienated or isolated because of who they love or how they see themselves. We must take a stand and denounce all forms of bullying and discrimination and show our support for diversity. Together, we can make a difference."
dayofpink.org