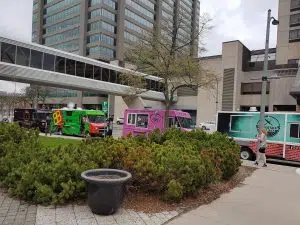 There's nothing better then some street food when you're out and about. Lucky for you that London has delicious food trucks ready to serve you restaurant quality snacks. But it's not all hamburgers and hot dogs out on the streets. As any entrepreneur will tell you running a business poses challenges, even for food trucks. That's why many of Londons street chefs have banded together to forum the London Food Truck Association.
The food truck association is made up of several local food trucks, each with their own unique themes. Dee Spencer, Owner of the Donut Diva and administrator for the food truck association spoke of how the association has grown over the past 2 years saying
"we only started a couple of years ago but since we've grown we have found that people enjoy knowing we've come together as a cohesive group. We celebrate each others success rather then view one another as competition. "
Spencer deals with new members and helps organize events for the association and has been running her food truck for 7 years. She spoke about forming the association with a "stronger together" mentality behind it.
The association has been welcoming new members with more joining soon and some in under a year. Julia Hau and Steven Mao are the owners of Mr and Mrs Bau, a food truck that serves authentic Chinese food and has been running since summer 2017. Only joining the food truck association in the last 6 months the pair were grateful for the supportive environment saying " If not for he support and experience from the other trucks we could have run into much more trouble frankly."
Being young business owners in an atmosphere of support and learning that removes the competitive nature of the job and allows more focus on the image and promoting social media.
Food trucks in the city will continue to bring London delicious food and you can hear more about them on 106.9 The X.