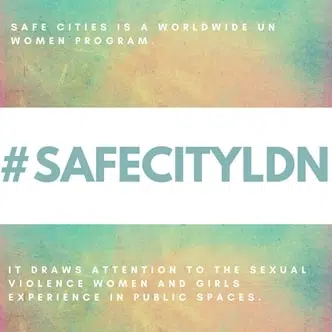 United Nation Women Safe Cities, or Safe Cities London is a 5 year project that promises to study different sexual violence and harassment cases that women and girls have experienced in public spaces in the city.
"The first year is the cooping study to gather data on women and girls experiences of sexual violence or harassment," says Kelsey Adams Project Coordinator, "from that data, we are going to make recommendations to the city and that will lead to change."
ANOVA has come up with the idea of creating an online confidential mapping tool system. Women and girls can visit the website and mark where they have experienced sexual violence or harassment in public spaces.
"Where they feel unsafe, they can drop a pin, move the cursor to the spot and click on it. It will ask you a couple of questions about what happened, age, gender, etc.," says Adams.
Sexual violence can be any kind, from unwanted comments, touching, or physical assault to not have the freedom to walk around the city without fear of been physical or verbally assaulted.
"I think women and girls often protect themselves because is common for us to experience sexual violence and harassment in public spaces," adds Project Coordinator.
Adams says there are many ways how women can notice they are experiencing harassment.
"I need to protect myself, I need to walk with my keys in between my fingers, I need to always look behind my back to see if anyone is following me, I need to have my headphones in, so I don't hear sexual harassment," she added.
She also clarifies the reason why there are more pins in some parts of the city.
"When you look at the map, you can see some parts of the city that are just more heavily populated, such as downtown. There are more pins there just because there are more people living there, so that's something to keep in mind, not necessarily because is unsafe there," says Kelsey Adams, "there is just more people there that have had more experiences."
The study is in stage 1, which is at data collection from female Londoners and it goes until December. After that, the project will be taken back to city council to give recommendations of what can be done to make London a safe city for women and girls experiencing sexual violence and harassment.
Over 1,500 pins have been dropped on the city's map so far within the first 2 weeks of being up online.