Fanshawe Falcons soccer has grabbed the OCAA spotlight the past few days.
Both Falcons soccer teams are starting the season strong on the top of the West trying to establish themselves as an Ontario powerhouse.
In the center of that spotlight, 3-Time golden boot striker Jade Kovacevic (Oakville, ON), was just named the OCAA star of the week.
Falcons Women's Soccer player Jade Kovacevic has been named an @TheOCAA star of the Week! #FeartheFalcons pic.twitter.com/WcKI1ASIyT

— Fanshawe Falcons (@FanshaweFalcons) September 11, 2018
After breaking the single game record for goals Saturday (9), she led the Falcons to their second win of the season against the St. Claire Saints (Score: 3-0)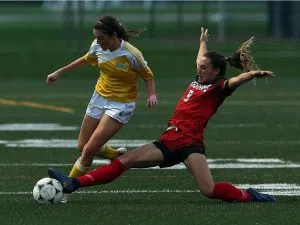 WOMEN'S: Fanshawe's women's soccer team is shooting a stellar 39% on the field (comparable to that of a low scoring game of basketball).
The Falcons have delivered a barrage of shots over the first two games leading the OCAA in:
Shots taken (41)
Goals scored (19)
Shooting Percentage (39%)
MENS: Soon after women's soccer finished, Fanshawe's men's soccer team took to Libro Field to play the Saints.
The Saints fought hard but in the end The Falcons just had too much behind their shots leading a 4-1 upset for St. Claire.
@FanshaweFalcons go up 3-1 three minutes into the second half over @StClairCollege men's soccer pic.twitter.com/8vLhZopnaX

— Saints Athletics (@stclairsaints1) September 12, 2018
With another strong showing the Falcons were also able to spark an early season win streak extending their record to 2-0.