Suicide is a major cause of premature and preventable death according to the Government of Canada. It is estimated, that in 2009 (last data publicize by the Government) alone, there were about 100,000 years of potential life lost to Canadians under the age of 75.
Statistics have shown that when suicide deaths are examined across age groups, persons aged 40 to 59 have the highest rates. Forty-five percent of all suicides in 2009 (1,769 out of a total of 3,890) were in this age group, compared with 35% for those aged 15 to 39, and 19% for those over the age of 60.
Co-chair of the London Middlesex Suicide Prevention Council, Marion Whitfield says that the number of youth victims of suicide is terrified.
"Unfortunately, suicide is the second most common cause of death among youth".
World Suicide Prevention Day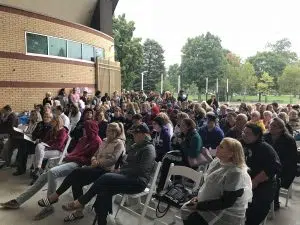 The thin rain that fell was following the reading of the names of suicide victims at Victoria Park last Tuesday (September 10th). Music and the walk were also part of the afternoon that reminded loved ones of those who tragically died.
Sharing the same pain and leaving messages of hope, many Londoners participated in World Suicide Prevention Day.
Whitfield, works in this field for more than 30 years, and she says that those people lived with a lot of pain, but hope and preliminary help and understanding can avoid the problem.
"Every year we organized the annual Lifting the Silence Memorial Walk and Ceremony in London. We are happy to have so many people this year".
If you want to understand more or support suicide prevention efforts, access the London-Middlesex Suicide Prevention website.