Sexual violence prevention is a topic that needs to be raised up through awareness. It starts in your community.
In 2017 the number of sexual assaults in London became the highest amount of reports in five years. Although some reports stated that this may not be a bad thing as it does represent that more victims are standing up. Awareness is being spread which leads to more justice and help for those who need it.
Both Fanshawe College and Western University have on campus resources for students and the city of London has 24/7 resources available to anyone.
Fanshawe College Sexual Violence Prevention Advisor Leah Marshall explains "Sexual violence affects all gender identifications and non-conforming gender identities." Anyone can be seeking help or wanting to help.
Although there have been studies shown that one of the groups that is at greater risk than others and that is women of college age, Marshall explains.
It is important for us to pay attention to some these reasons why certain groups experience violence at certain rates. Sometimes it's also because of racism, colonialism and other factors of oppression as well.
If you are faced with a family member, friend or anyone in your life dealing with this kind of situation there is something you can do as well.
Believe the survivor
Ask them how you can help, do not assume that you know
Make sure they know they are not alone
Every survivor deals with their situation in different ways. Some common factors that this trauma can lead to is:
An impact in their sleep
An impact in their appetite
Feelings of being unsafe
Marshall explained that these feelings are completely normal and that students need to know that all kinds or resources are available both on campus and in the community.
Contacts: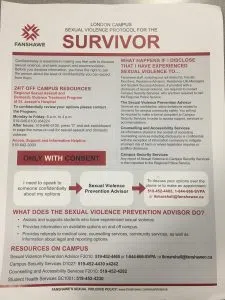 Sexual Violence Prevention Advisor F2010: 519-452-4465 or 1-844-666-SVPA or lkmarshall@fanshawec.ca
Campus Security Services D1027: 519-452-4430 x4242
Counselling and Accessibility Services F2010: 519-452-4282
Student Health Services SC1001: 519-452-4230