The school year is in full swing and with it comes a busy schedule. Having a busy schedule can sometimes lead to unhealthy eating. And finding ways to eat healthy can be a challenge. Luckily, registered dietitian Mai Elhayek is here to help.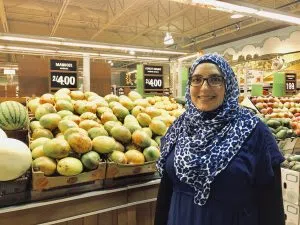 Elhayek hosts healthy food workshops for anyone who is interested in learning some healthy food options. At the workshops she shares recipes, portion control, and other tips on how to incorporate healthy food into your schedule. Along with debunking some myths that are told about healthy eating.
"A lot of people think they are only supposed to have three meals a day, when in fact it is very important to have those snacks in between. Because with snacking it really determines how much we eat in all the other big meals that we think we should be having." -Mai Elhayek
Being mindful that what we eat does not just satisfy the feeling of hunger, but it effects much more.
"Really what you put in your body is so important and it dictates your energy level and your ability to focus, and how good your work ethic is going to be." -Mai Elhayek
To learn more about how to incorporate healthy food into your life, Elhayek will be hosting another healthy eating workshop on September 27th at Farm Boy Wellington.