Fanshawe's Transportation and Technology program are racing to help the community. The Slalom races are an annual charity event hosted at Fanshawe.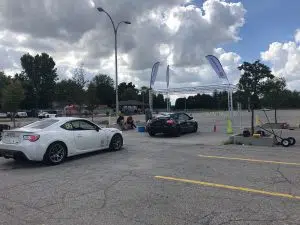 They collaborate with Western Ontario Sports Car Association (WOSCA) and other community organizations to raise money for London's Children's Safety Village.
The cars squealed burning some rubber as they made quick turns and left dust behind them. And with around 50 entries for the races the event had a great turn out, raising more than $1800 for the London's Children's Safety Village.
"Its a lot of fun. We have a good turn out, and a whole crew of guys from Transportation Technology it works out good. A lot of our students come out, we actually have a couple students with their cars entered today and we did bring down one of our vehicles as well." -Blaine Young, Divisional Coordinator of Transportation and Technology at Fanshawe
The vehicle Fanshawe's Transportation and Technology brought is a 2017 Corvette. The car was donated to the program by training partner General Motors.
"This one had a little bit of work that was needed, and they donated it to us. The body shop program took it on and they fixed it and made it like new. And they did a fantastic job, they did a beautiful job." -David Vollmer, Automotive Professor
The Corvette is not the first car that Transportation students restored for Fanshawe. They also fixed a 1967 Ford Falcon for Fanshawe's 50th anniversary last year.
"It shows what we can do here at Fanshawe College with the students. It's primarily about them getting the education, but we get to pass on some of our knowledge from being in the workplace for so long. And have them produce some pretty cool stuff. Give them opportunities they don't always get."