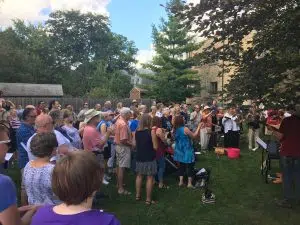 You would have to be living under a rock to not recognize the catchy melody of "Hey Jude".
Written in 1968, the song celebrated its fifty year anniversary back in August, but it was officially named a hit song on September 15 of that same year. This just what music teacher Steve Holowitz intended to celebrate.
He put the word out on social media about the sing-a-long. It would happen Saturday at noon in the parking lot of Saint James Westminster church. He admits he didn't expect a huge turnout, calling it a "social experiment" more than anything. By the time it was time to sing, a group of around one hundred had gathered on the grass- all armed with their voices and instruments.
They warmed up with a rendition of "Let it Be", but when the clock struck noon, the real show began.
It was a special moment for everyone there. No one was concerned about their singing ability, or how loud they were, it was just pure passion and love for music.
Holowitz was at a loss for words, "This was fabulous".
He says he wants to plan more Beatles sing-a-longs in the future, and use them to stay active in his community.