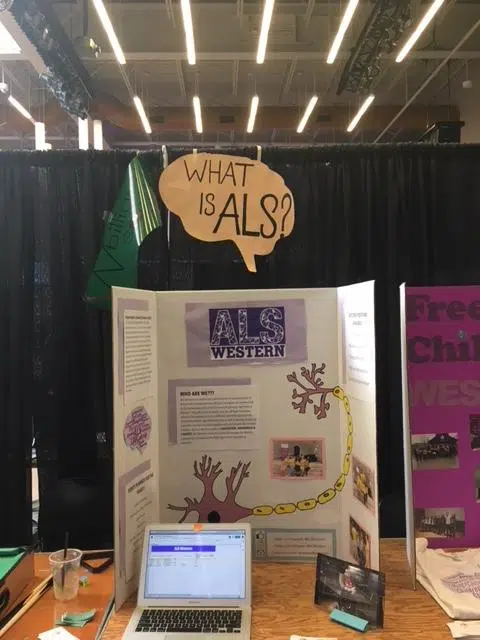 Today is the first day of Western's USC Clubs Week. Booths and posters advertising the various clubs line the walls of the UCC Atrium and Mustang Lounge. The week features various clubs for students to choose from. ALS Western is one of the 18 newly ratified clubs debuting at Clubs Week. Erin Abraham, the VP Events of ALS Western hopes to shed light about the disease to Western students.
"Another thing that we're aiming for is just raising awareness so that people might just maybe go back home and search it up and keep that interest going within the Western community."
Abraham understands that as a new group, new members are key. She hopes that even if students do not decide to sign up, that there is still help that the club can offer students.
"We hope to mentor students as well, in one way or another to help them to navigate university life. We want to make social connections as well."
The group says that the process of building their group has been easy with the help of USC's staff and is hoping that their initial interest from students will continue throughout the year. There are a variety of different clubs to choose from for each student at Western, according to the Associate of Clubs, USC, Declan Hodgins.
"With about 213 clubs on campus, and every single one of them is unique, there really is a club for everyone. Clubs week is the best way to get involved in these opportunities."
Other new clubs include, Children's Health Improvement, Lupus Awareness Club and The Butterfly Effect UWO.
The event continues until the 21st.