Car crashes are the number one killer of children, and altho
ugh many think it's due to the impact, it is actually due to your child not being properly strapped into their car seat. In fact, in a study done 96% of parents believe that they have installed their child's car seat correctly, when in fact 72-84% of parents are misusing car seats.
Making sure your child is in the correct seat for their height, weight and other factors is crucial when putting them in a car seat. The cause of many children deaths is due to them not being strapped in properly and being in the wrong sized seat. Catherine Winspear, a registered nurse for the Middlesex London Health Unit, wants parents to know the consequences of your children not being strapped in properly.
"The child could be ejected from the seat, if they're for instance in a booster seat too early, the seat just doesn't keep them safe if they're in the wrong seat. If they're too big for the seat, they won't have the proper head and neck protection."
Winspear adds that babies especially, tend to outgrown the seats height wise before they do weight wise, and so you need to look at your car seat instructions to ensure they are in the proper seat.
A huge mistake that parents tend to make is taking their child out of a booster seat too early. Children can be, and are encouraged to remain in a booster seat until they are between the ages of 10 and 12 years old.
Children's bones are different than adults, and therefore, even when they seem like they fit the seat without a booster, in the case of an accident occurring, their bones will break easier than an adults would. Car's are made for adults, and so removing your child from a car seat before they are ready could result in them being seriously injured.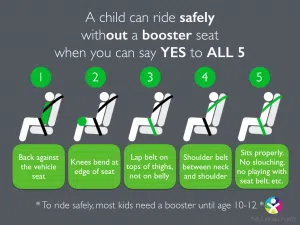 There are 3 main laws that your child needs to meet before being removed from a booster seat. Legally, they need to be 80 lbs, 8 years old, or 4'9″. Although, Catherine Ramey, a technician for the Child Passenger Safety Association of Canada, gives 5 tips you should follow before saying good-bye to the booster.
The seat-belt sits properly against their chest(between their shoulder and their neck)
Seat-belt sits at their hipbones, not their tummy
They can sit with their bum all the way back
Knees bend at the front-edge of the seat
Can sit without being flopped around (head secure)
Parents, especially first-time parents, are overwhelmed when picking out everything their baby will need when they arrive. And car seat shopping can be the most stressful.
"Buying the most expensive car seat does not mean you're getting the best car seat," Ramey says when offering a main tip to new parents, "the best car seat is the one that fits your vehicle, fits your child, that fits your budget, and they you're going to use properly every single time."
Ramey adds that when picking a car seat, you can call London Car Seat Safety for professional help, and a volunteer can travel with you to get equipment you need, with an experts opinion.