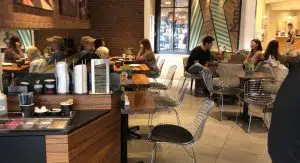 Some says that caffeine makes the world go around, and for many student, caffeine is necessary because it helps them get though the day in order to perform at their best. 
Caffeine does give students the boots they need to stay awake in class and finish their work. However it is easy to become to reliant on caffeinated drinks instead of actually getting some sleeper learn how to time manage.
Many people find themselves thinking they need caffeine to keep going. For those who regularly consume large amounts, they may get mild headaches or feel tired if they suddenly stop. To avoid these side effects, it's recommended to slowly cut down on caffeine intake.
In conclusion even though they isn't a deadly warning that comes with the caffeine drinks,  it may very well indicate some heath benefits. Caffeine isn't as bad as some may think, but also make sure keep your habit in check, since the benefits of caffeine consumption are only valid if it's consumed with in the moderate levels.