School is now in session for post secondary students at Fanshawe College. Many are first year students living in an on-campus residence, but most are in their second to fourth year where residence is not an option. In today's society, students face a new chapter in their lives when they move on from first year to second year at college. Student housing is known to provide a comfortable living situation for a significant number of older students.
Dan Warren has been a landlord for student housing for over 5 years. He provides housing to Fanshawe college students and ensures that they get the kind of house they desire.
"High quality housing is very important. Making sure that there's people compatible with each other is also an important aspect to make sure students feel comfortable."
Warren works hard in order to prioritize the students' needs when it comes to stable living. Part of his job is to make sure the homes are in good shape and ready to be lived in by 6 students.
"Definitely outdoor space is key, everybody likes to spend time outside tanning or playing football and basketball."
On-campus residence is known to house first years to help ease the transition of being away from home. For Fanshawe College students, there is another option for living which is located right across from the school.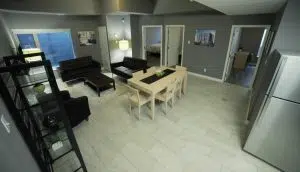 Residence on First is a luxury apartment that offers the convenience of living at a Fanshawe College residence, but has all the benefits of off-campus housing. R1 gives students the space they need to focus on their studies, whether they prefer to work alone in their suite, or in a study room. Jacqueline Hale is the General Manager of this estate.
"I think the basic advantages of off-campus housing is that it makes students gain maturity and the ability to do things on their own. It allows for students to have that freedom knowing that there's also support available."
Fanshawe College continues to be an open and inclusive environment, offering everything students need to make college life successful, enjoyable and safe.