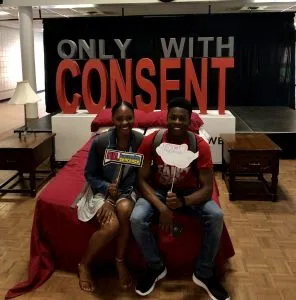 Pee for Pizza, among many other services were offered to students at Fanshawes Sexual Awareness fair today in Forwell hall.
Fanshawe has made it easy for students to get tested for STIs and HIV  on campus by offering free pizza in return for a urine sample.
"STI testing is here on campus which makes it a lot easier than having to go out in the community to do that" says Leah Marshall, sexual violence coordinator at the school.
"We run two different sexual violence prevention and education events per month so its actually an on-going thing throughout the year" Marshall continues.
The event is meant to kick off the year with an important message about sexual awareness, and to also get students familiar with the types of events held at the school, and the services they offer throughout the year.
"This event is a great kick off to the start of the year so students can get familiar with whats available to them and what services they may need to access if they're new to London or if its the first time they've engaged with these types of services." Says Marshall
Having these type of events on campus are important in order to normalize asking questions about sexuality
"It's a good opportunity to come out and ask questions and I think that thats why it's really important to have these events on campus so that students can ask questions  in a space where they're actually speaking to the experts of those services and sometimes we don't always have spaces where we can do that" Said Marshall