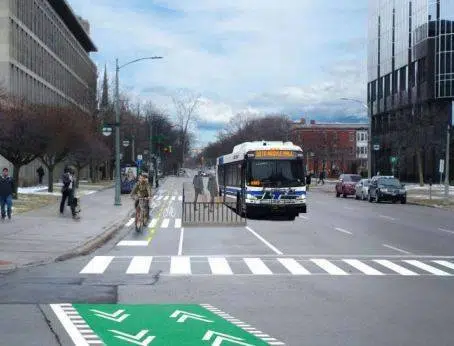 The civic works committee approved a $582 000 plan to construct bike lanes on King Street in downtown London. In doing so, they are hoping to create a safer environment for cyclists. The bike lanes will have a buffer to separate traffic from cyclists.
Many cyclists groups around the city are excited to hear the news. Ben Cowie is the owner of London Bicycle Café near King Street. Also being a safe streets advocate, he is thrilled that council is creating the opportunity for safer cycling in the downtown core.
"We're excited that the city has chosen to design an all ages and abilities facility in downtown. It's really enabling for so many people."
Dedicated bike lanes are beginning to pop up around the city, but Cowie says more can be done to improve the quality of cycling.
"There doesn't need to be a bike lane on every road, but there should be a way to get to every address in the city on a bike."
The entire council has not approved of the plan, but Cowie is certain that the city will move forward with the plan.
"I expect council will pass it given that the current cycling system in the city is a very serious safety concern."
Cowie is happy that these dedicated bike lanes are bringing equality to the cycling community. Being referred to as a cyclist is something he is not too fond about but says the new bike lanes can bring relief to that stigma.
"I don't think of myself as a cyclist. Do you think of yourself as a drivist when you drive? No," he said. "We're all people trying to get around the city, just in different forms of transportation."
The one thing that possibly will hold council back from pursuing this project is King Street needing to be torn up in a few years for bus rapid transit. Some are asking, "why construct bike lanes and spend half a million dollars when the whole project will be torn up in a short period of time?" The entire council will vote early next week on whether to move forward with the project or scrap it until bus rapid transit construction is complete.