"I've been committed to trying to raise funds to help find a cure for breast cancer, and to give people like myself a gift of hope. Because when you're told that there's no prognosis, it's the scariest thing you could ever imagine hearing."-Katherine Butson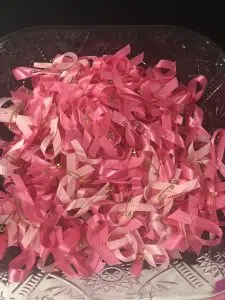 Katherine Butson was diagnosed with breast cancer five years ago. Due to lack of research on the type of breast cancer she has. She was told that there is no prognosis. Since her diagnosis, she has worked to raise money to find a cure, and to help others fighting the disease.
Butson is a life long fan of the London Nationals. She would take her son to the games, and they would share in the love of hockey. The Nationals games turned into a distraction following her diagnosis.
"By attending the hockey games it has enabled me to forget about cancer for two or three hours each time I'm here. I just think it's important that the young men out on the ice understand that they are truly a distraction, diversion, and positive entertainment for those of us who may not be sitting in the rink feeling the most secure about themselves." -Katherine Butson
Butson turned to the London Nationals for help with fundraising. They agreed to help, and for five years the Nationals have hosted a Pink in the Rink fundraiser game to support her cause.
"Because Katherine has been a big supporter of us, we wanted to return that favour and be a big supporter of her and everybody else who has been affected by cancer." -Whitney Eansor, Director of Sales and Marketing for London Nationals
At this year's game pink ribbons were given out at the door by donation. And Butson's team collected donations in pink buckets throughout the game. With the fans alone, they were able to raise around $700. The Nationals donated an additional $500, making the total amount of money raised around $1,200.
Fans also helped show their support by wearing pink, along with the National's coaches. And the team all had their sticks taped with pink tape. The pink tape turned out to be lucky since they beat the Sarnia Legionnaires 7-2.
You can support Katherine Butson, and many others in the fight against breast cancer on Sunday September 30th at CIBC's Run for the Cure.