As part of Sexual Violence Prevention Month, Fanshawe College will host the fourth installment of its thought leader lecture series, RedTalks, on Thursday, October 4, with Lucy DeCoutere. Best known for her work on the show Trailer Park Boys, Lucy DeCoutere is an advocate for improving dialogue around sexual abuse. In this presentation, Lucy will discuss her journey of recovery as a survivor of sexual violence.
Sexual assault on college campuses is a common problem that often goes unreported. It includes any unwanted sexual activity, from unwanted touching to rape. Kim Hotham is a Professor at Fanshawe college, she plays a huge role in the LGBTQ community and is the founder of TransLondon, an organization that supports people with the trans-community. Hotham provides further insight on the topic of sexual harassment on campus.
"The younger we get to children, the better. This has been a focus of our positive space group for a long time. Trying to get a message out, students don't typically pay attention to it. The college is going to have to push awareness on all of our students."
Fanshawe strives to make their students feel comfortable by providing them with Counselling and Accessibility Services. Counsellors provide a confidential atmosphere where students can explore any topic or situation and discuss any concerns they may have including situations involving sexual violence. Leah Marshall is the Sexual Violence Prevention Advisor at the college.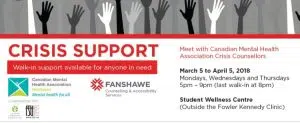 "I think Lucy's case opened up conversation about how difficult opening up can be. It's very powerful for us to have her here now in 2018 where a lot of conversation around sexual violence have been changing."
Sexual assault happens everywhere and to women and men of all ages. But it is common on college campuses, and, among adults, sexual assault happens most often to traditionally college-age women Many young adults use alcohol or drugs for the first-time during college. Using drugs or drinking too much alcohol can make students unaware of what is happening around them and to them.
Students may also feel peer pressure to participate in social activities like drinking, using drugs, going to parties, or engaging in sexual activities that make them uncomfortable. Ashley Bannerman is a student at Fanshawe. She shares her thoughts about this ongoing issue.
"It's so important to focus on this issue, especially in college because you shouldn't have to worry about going out and potentially getting harassed. There are many young people with young minds in college where they might not realize how inappropriate people can be, so they are completely caught off-guard."
It is important for students to know that help is always available. Fanshawe College is committed to maintaining the health, safety, and well-being of every student, faculty, staff, and community member. The college strives to create an environment that is free from discrimination and harassment.