Western students have made it their mission to continuously honour the life of Andrea Christidis, a Western student who tragically lost her life due to a drunk driving incident in 2015.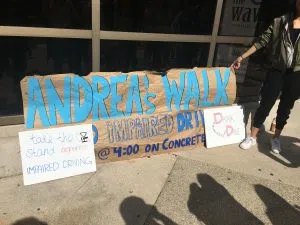 The Health Studies Students' Association (HSSA) have partnered with Mother's Against Drunk Driving London, to ensure that students are aware of the long lasting impact that impaired driving has, not only on its victims, but on a whole community. Walking from Western's Concrete Beach to the Health Studies building, more that 100 students hope to raise awareness about Christidis' death. Jared Dejong was charged with a five year prison sentence, after striking Christidis, who was walking to her residence from behind on Oct. 7, 2015. Christidis passed away two days later. Her friends, family, and the Western community were heartbroken and continue to grieve for the loss of the first year Health Science student.
The walk is in it's third year, and is an effort to ensure that an incident like this never happens again, especially not on campus.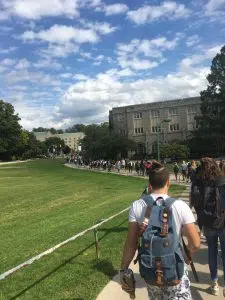 Raising awareness on campus is their main concern, as many students at Western are highly engrossed in drinking culture. The supporters wore blue ribbons as a physical representation of their message.
Supporters gathered in solidarity, some even bringing flowers that were later laid at the site on the accident on Lambton Drive. Travelling from UC Hill, through University Drive Bridge and down Richmond Street they ended at the Health Studies Building where snacks and drinks were served. This is also where supporters signed a pledge, promising to never drive while impaired.
Childhood friend of Christidis, Shilan, came from York University in Toronto to support Christidis' friends and family. She believes that the impaired driving laws in Canada are not strict enough.
"At this point in time right now, the punishment that people get for impaired driving, it's not even half of what it should be, like the United States. So I just think that awareness, that what we do here, provides people with more information about it," she adds.
Lauren Mckinley is the Vice President Administration for HSSA. She collaborated with representative from the association, Shannon Carmen, to create the event. She hopes that the walk will continue after the organizers graduate, because she believes that students do not understand how difficult it is to drive while impaired.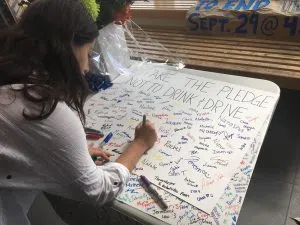 "I don't think they understand that you can be a good driver and it doesn't give you the right to get behind the wheel drunk. No one's a good driver when they're drinking and you just put too many innocent lives at risk", she says.
According to MADD London, "annually, between 1,250 and 1,500 people are killed and close to 64,000 are injured in Canada in impairment-related crashes." Last year, the organisation called on London City Council to allow Uber to continue in London as an added measure of safety for students.
If students want to drink, it is recommended that they  make sure that they have a plan on how to get home. Suggested plans include getting a designated driver, someone you can rely on who will not drink and who can drive you safely home. Ubers and taxi's are also an easy way to get home on a late night out.