Post-secondary London students can sometimes have the reputation of not caring about their community . The Students in London Panel is a monthly meeting, organized with the intent of mending the relationship between students and the London community. Western's USC Vice President, Danny Chang, Fanshawe's President, Jahmoyia Smith, CEO of Downtown London, Janette MacDonald and Blackfrairs Community member, Susan Joy Spindler, represent the students and downtown London.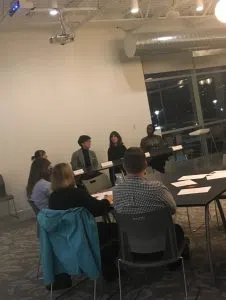 The panel discusses how students contribute to the London community and hope to clear any misconceptions that Londoners may have about Western and Fanshawe students. Associates from various organizations in the community such as Urban League, SoHo Community and London Environmental Network ask the panelists questions regarding different topics that concern students, such as housing, partying, careers in London and community involvement.
Chang emphasizes how the USC is hoping to alleviate stress caused by rowdy events such as FOCO, with the initiative of the PurpleFest event held on campus on the same day. He also believes that through working together, the city of London and Western students can help build the social environment of the City of London.
"It's about a partnership and its about us reaching out to one another and both the students and long term community members to find areas where we can intersect and be able to help one another."
A topic that is often discussed about students, is their lack of community involvement. Chang believes that Western students have many opportunities to help the city of London.
"One of the things we [highlight is] the Orientation Service Program, which sent over 2000 Western students into the London community to do local work with over 60 organizations. Starting more of those collaborations, that are then creating more conversations about [how] this really is an amazing relationship."
Smith represents Fanshawe students and believes that Fanshawe offers monetary and international growth to the community.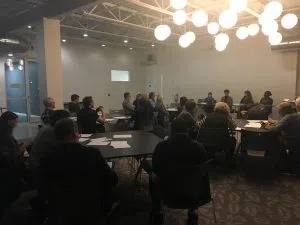 "Fanshawe students, they provide a huge financial impact to the economy in London. We have students coming from all over the world to come into Fanshawe and the cultural vibrancy that it brings that it brings to London, its beyond amazing."
Community members such as Ben Kovacs, returned to London after completing a degree in Waterloo and wants to get reconnected with the people of London.He hopes that more young grads will want to do the same.
"Students are already very involved in London and that was great to see, but, beyond that too, there was definitely a lot of conversation back and forth [about] how we could think of new ways of how to engage these students."
The student representatives reiterated the fact that they want to see the invisible walls that surround campus to be broken, and for not only students, but also for community members to reach out in order to make the city whole.