Tara Robinson woke up after the morning of Westerns's unofficial 'fake homecoming' (FOCO) to a shattered window, broken front door, and a yard that looked like a landfill.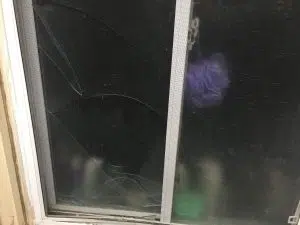 She was greeted by a city bylaw officer who provided a single garbage bag and told her to clean up within the next few hours or face the consequences. Needless to say that she lives on Broughdale Avenue. The city of London is concerned with; how much FOCO cost, how many charges were laid, who was injured, how many police were sent out, etc., but how did this day affect the people who live on Broughdale? Robinson says it was a stressful experience, to say the least.
She says that her roommate was informed by a USC (university student council) member that the Fire Department would be coming to each house on Broughdale to conduct inspections that would make sure the homes were up to code. She and her roommates went out and purchased smoke detectors, fire extinguishers, and other aids that would make sure they would not receive a fine but no one ever showed for an inspection. She says that the possibility of getting a fine was weighing heavily on her and it just kept getting worse.
Next, her house was supposedly informed by London Police that if any party goer was to go on the roof of their house, each person on the lease would receive an eight-hundred dollar fine. They were also supposedly informed that noise complaints would result in fines as well.
Robinson says that "it is not fair that just because we live on a certain street we are in danger of receiving these fines. We can't control who comes into our backyard, but we face the possibility of paying the price." 
She acknowledges however that the police informed resident's of Broughdale avenue that they would be able to request in advance special police assistance to keep everyone off of their property. She admits that they did not take this offer as they wanted to have people come on their lawn, but after seeing the damage and having to stress all day, she wishes she did. She says that living on Broughdale on FOCO is not as fun as attending the event because you are constantly worried, trying to keep people out of your house, and on red alert.
Councilor Phil Squire has made statements saying that these unsanctioned street events are bound to get out of hand and the city needs to better prepare for them. London police officers provided a number this morning of a total of 60 charges and over 1,000 warnings given out.
For tweets on the story look below.